DECEMBER 2019
Yet another year with you, friends, comes to the end. It was full of love and warmth, support and kindness. The words of gratitude from the children whom you have helped, from their mothers, fathers, grandmothers – these words come to us in dozens these days. On their behalf, with great admiration for the work of volunteers and the generosity of the donators, we say: dear friends, thank you for your help and involvement! Life goes on, good deeds bring forth fruit.
In November, we have helped to pay: the emergency surgery in Switzerland to replace the spinal support system for Victoria Vakatova, 10 years old, Moscow, scoliosis, impaired spinal development; the treatment in Israel for Daniil Likhodienko, 7 years old, Khabarovsk Territory, Russia, the consequences of cancer, epilepsy; the stem cell transplantation for Sofia Mushkudiani, 6 years old, Georgia, epilepsy, cerebral palsy; the medicines and medical examination for Valentina Mikhailova, 5 years old, Ukraine, laryngeal and tracheal papillomatosis, tracheostomy.
On the eve of the magical New Year and Christmas days, the following children are waiting for our help: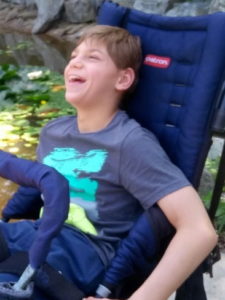 Dmitry Rudenko, 11 years old, Vladivostok, Russia, diagnosis: hyperkinetic cerebral palsy, spastic tetraparesis.
Every day, the mother exercises with her son for 3-5 hours. On his own, Dmitry can only crawl, stand, sit and walk with support. The mother raises the son alone, she teaches and trains him. The funds for technical support are not lacking, the equipment one can get does not suit. Dmitry gets older, is growing and gains weight. It becomes more and more difficult for the mother to handle this. They require a verticalizer or a walker so that Dmitry spends more time standing.
Such a verticalizer costs about EUR 1,000.
We would also appreciate the contacts of the organizations and sponsors, who are ready to donate or lend this device to the family.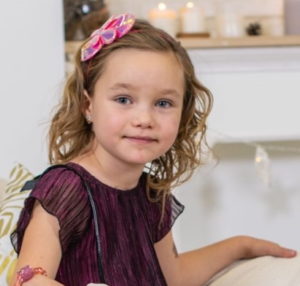 Anya Nikolaeva, 5 years old, St. Petersburg, diagnosis: pulmonary atresia type 3-4, tetralogy of Fallot.
Anya has undergone the first surgery in the age of 8 months. At the age of 3, Anya was treated at the Berlin Cardiology Centre, where she has undergone the stenting and a surgery. Now, the installed stents do not suffice, it is necessary to repeat the surgery so that the system of her own blood circulation can develop further. Throughout her short life, the girl has been tormented by short of breath and lack of oxygen with any, even very small physical loads. Anya goes to kindergarten, she is able to participate in events: she recites poems and sings songs. But the girl cannot dance, nor run and jump. For Anya to be like an ordinary child, an urgent surgery is required at the Berlin Cardiology Centre. However, the bill for the surgery is unbearable for a family where only the farther is employed. Your help is required. The funds of EUR 66,556 are needed for the surgery.
Kamila Koraeva, 9 years old, Vladikavkaz, Russia, diagnosis: relapsed neuroblastoma.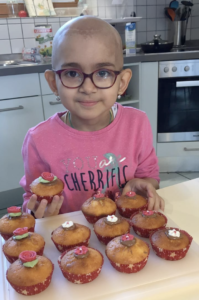 In 2013, the doctors in Rostov had refused to operate on a large tumor of Camila, that affected vital organs. The Koraev family, with the support of Russian charitable foundations, has arrived to Germany. At University Hospital of Munich, the girl has undergone a long and difficult, but successful operation. Unfortunately, a few months later, the insidious disease has relapsed. Camila was sent for further treatment to Cologne University Hospital. The long-term therapy was successful, and happy parents with baby Camila were able to return to their native Ossetia. However, after three years of living at home, the disease made itself felt again. All energy was again thrown into fundraising in order to quickly resume the necessary treatment in Germany. Since 2017, Camila has been treated and observed in Cologne. Her parents and younger brother have to stay with her at the clinic, while another daughter is left for the care of relatives. The family lives in a guest house for children with cancer. They have a debt for this housing, which must be paid off before the end of the year. The debt is about EUR 4,000.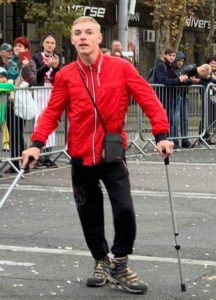 Nikita Kucherenko, 18 years old, Mykolajiv, Ukraine, diagnosis: cerebral palsy.
From a letter of Nikita: "I would like to thank you so much for helping me to get necessary treatment for several years.
This year was difficult for me. I worked hard to prepare for entrance exam to a university, but I lacked the required exam score – by two points only. I was upset, but everything happens for the best.
Now everything is fine. I take lessons by skype in German, English and web design. I work out in the gym with a new trainer and make progress. I learn to be independent and wait for the moment when I can earn money myself.
Starting January 6th, I need to take a course at TheraReha. We have already paid an advance for the treatment bill. The rest of the bill amounts to EUR 2,640. In addition, EUR 700 is required for accommodation. "
We are pleased with the success of Nikita, who, before our very eyes, has made an almost unimaginable leap and made great progress. Let us help him to achieve his dreams!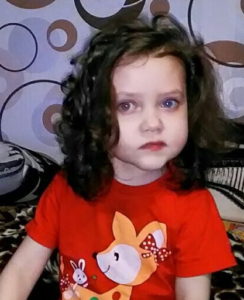 Arina Belonogova, 7 years old, Ivanovo region, Russia, diagnosis: epilepsy.
From the age of two months, Arina suffers from cramps. All kinds of treatments suggested by the doctors have been tried: 15 drugs, 2 courses of hormones. All that was to no avail. The leading Russian epileptologists have refused to help the child. An examination at Schön clinic in Vogtareuth, Germany has shown that a surgery is possible. However, a more accurate pre-surgical examination is necessary to accurately determine the epileptic lesion. The examination is very expensive, it costs EUR 48,115. However, the surgery is the only chance for Arina to get rid of the cramps that torture her every day!
It remains to collect about EUR 36,000.
HURRY TO DO GOOD!
I heartily embrace everyone
Yours Alina Titova