Orthodox Volunteer Day, July 6 2019, in Krefeld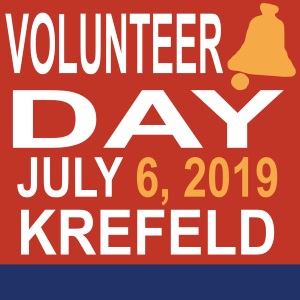 The Orthodox Volunteer Day, which was established in Russian Orthodox Diocese of Berlin and Germany to be celebrated every year on the first Saturday in July, will take place this year on July 6th in Krefeld. It will be held in Krefeld on July 5-7, on the basis of the parish of St. Barbara, Wielandstr. 11, 47799 Krefeld, http://www.rok-krefeld.de/
The theme of Volunteer Day in 2019 is New technologies in volunteer work .
We expect many very interesting speakers and guests from different countries and areas of activity. We are pleased to announce the arrival of Vladyka Panteleimon (Shatov)! We will discuss technical developments, psychological techniques, new concepts and findings. There will also be round tables on the participation of children and adolescents in volunteer work, burnout prevention techniques, and effective communication in the volunteer group. There will be a workshop on dealing with seriously ill children and their families. In a special session, we will discuss a new rehabilitation and educational project of the Good Deed. We will meet old friends, establish new contacts, communicate, support each other, have fun and share experiences. A joint liturgy and communion in the church, a charity event in favor of our care-takers and the closing of the Volunteer Day will take place on July 7th.
You are invited! Please come.
We do expect the representatives from each diaconical group of Good Deed. It would be even better if the whole group comes!
To take part in the event , please fill out the registration form before June 10 (before June 5 if you need an overnight stay). The registration fee is 30 euros, this includes food and accommodation. Please pay the fee here .
Questions and suggestions by phone or email: +49 178 5408805, Alina.Titova@orthodiakonia.de