FEBRUARY 2017
Dear friends!
Our successes throughout January:
A sponsor was found for the purchases of the medications for Rhodion Nihotin, 2 years 9 months old, city of Kerch, ICP, and for the cost of the operation of Vanya Kochnov, 4 y.o., ICP, from Donetsk. Money was found to purchase and ship the medications for the next 7 months for Valerij Davyskub, 16 y.o., genetic hypophosphatemic rickets, from Lugansk.
Thanks to your support we have been able to help with the funding of the treatment and living costs for Nina Taranets, 19 y.o, upcoming blindness, from Krasnodar region, Russia, Kostya Kovalev, 6 y.o.,AIDS, from Moscow, and Daniil Bocharov, 17 y.o., retroperitoneal neuroblastoma, from Kazan, Russia.

The work in our local Diakonia communities has been even more intensive. It is difficult to mention all the children who received help from them.
Our new list for February:
Stephan Tishkov, 8 y.o., Kharkov, CLOVES syndrome, vessel malformation, tromboflebitis.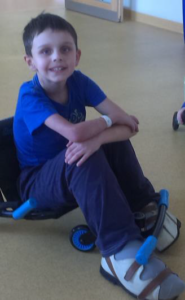 Stephan has a very rare illness. To this date there are 150 registered cases of this illness worldwide. The first five years Stephan had to go through an operation after the other, but the right diagnostic was not made, and the Russian and Ukrainian doctors didn't know how to treat him. The child has gone through more than 30 multiple-hour operations and narcoses already.
In 2013 Stephan arrived in the University clinic of Regensburg, to Professor Wolhelmut. Here he was diagnosed with the CLOVES syndrome, told how to live with it and, most importantly, was promised that they would help him, fix and ease his life. At this point the difference in the length of his legs was already 7cm, Stephan experienced pain in his legs, thrombosis.
During the treatment time in Regensburg, the professor was able to achieve substantial results and improvements in the condition of the child. Nowadays, the difference in length of legs has diminished to 4,5 cm, vessel pathology has been removed.
The next step step is an operation on the vessels and the changing out of implants, which slow down the growth of the leg, and it is planned for March-April 2017. The total cost of the operation is 18.200 euros.
For the moment, it is necessary to collect 9667 euros to perform the operation on changing out the implants.
HURRY TO DO GOOD!
Warm hugs,
Alina Titova
PRAYER LIST FOR FEBRUARY 2017:
For the health of:
infants Elisaveta, Elena, Alexandra, children Valentina, Natalia, Ariadna, Viktoria, Daniil, Viktoria, Stephan,
Aglaida, Alexandra, Evgenija, Ljudmila, priest Sergiy
For repose of:
Igor
Privately:
For the health of: Eldar, Lauma, Julia
For repose of: Elwina
For the health of our volunteers and for the God's help to them in every good deed:
Irina, Xenia, Ekaterina, Xenia, Elena, Dionisiy, Marina, Tatiana, Maria, Olga, Elena, Ljudmila, Anna, Alexandra, Artemiy, Elena, Oleg, Alexandra, Alexandra, Elena, Maria, Vera, Alla, Andrey, Anton, Sergiy, Alexandra, Maria, Fotiniya, Tatiana, Olga, Anastasia, Irina, Maria, Alexandra, Galina, Julia, Marina, Margarita, Daniil, Priester Alexiy, priest Ilya, priest Nikolai, priest Alexander, priest Viktor, priest Evgeniy.
Also remember to pray for their relatives!