Frankfurt am Main: Benefizkonzert mit Vernissage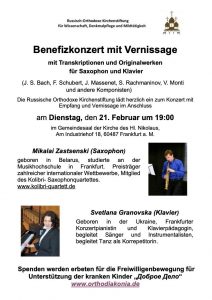 On February 21 at 19.00 a charity concert and vernissage will take place in Frankfurt am Main, Industriehof 18, 60487. The program will include works by Bach, Schubert, Massenet, Rachmaninoff, Monti and other composers. They are performed by Mikakai Zastensky (saxophone) and Svetlana Granovskaya (piano).
All funds raised will be directed to support the care-receivers of Diaconia Good Deed.