Charity bazaar in Cologne, 15-12-2019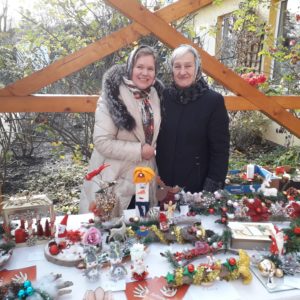 Photos On December 15, on the premises of St. Panteleimon church, we have held a traditional pre-Chirstmas charity bazaar. The preparations have started already in October. Under the guidance of Good Deed volunteers, the children and adults after the Sunday srevices and Saturday sessions at the Children Centre came together to make Chirstmas decorations and souvenirs for the bazaar. Even the little ones endeavoured making with their moms the delicious Christmas pastry. Help to sick children has become an important uniting activity for the whole Cologne parish.
All funds collected will be used to pay the housing and other needs for the families of sick children from Russia, Kazakhstan, Ossetia, that follow long-term medical treatments in Cologne University hospital.