JANUARY 2019
Greetings, dear friends!
To put it shortly, in the festive and hurry-scurry month of December, we have helped to:
Nikita Kucherenko, 18 y.o., Nikolaev, cerebral palsy – we have paid for his rehabilitation in Ratingen; Sebov Alexey, 2 years, Odessa – we have paid for the diagnostics and prescription of treatment of epileptic seizures; family of Alina Belyaeva, 10 years old, acute lymphoblastic leukemia – we have paid for the housing in Berlin diring Alina's treatment.
Thank you for making the New Year holidays the feast of kindness and humanity!
In January, the following children are waiting for our help: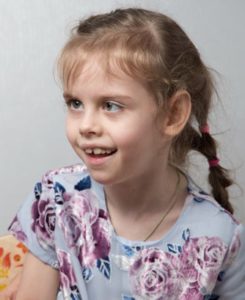 Elizaveta Ekimova, 7 y. o., Tomsk, Russia, cerebral palsy.
We have already helped Elizaveta to undergo a rehabilitation course in the Ratingen center. These courses are of great help for the child, and they have to be continued. For 7 years, the family has been attempting to undergo the rehabilitation courses once in 3-4 months. This has brought the result. However, the parents cannot cannot pay all the courses with their own means, while the charity funds in Russia do not cover the rehabilitation abroad. Please help! The course in coming March costs EUR 4,660
Anna Ionova, 13 y. o., Moscow, cerebral palsy.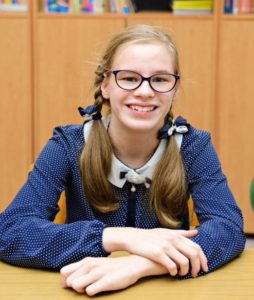 At school, Anna is one the two best students in her 7th grade class! Her parents are very proud of her. She likes to read books, and takes extra lessons in English. Anna studies with pleasure, although it is not easy for her to withstand such a big load. With her growing up, she developed scoliosis (the crippled back) and lordosis (arching of spine in the lower back). Parents are trying to help their child. However, the financial situation in the family is difficult: the father cannot work after a stroke he suffered several years ago, and the financial resources have been exhausted. It is very important in adolescence to consolidate the results that have been already achieved in her childhood, not to permit the increased tonus to worsen her walking, to give her an opportunity to stay on her feet, and not to get back to a wheelchair.! For this, she needs to go regularly for a treatment to Ratingen clinics.
The month of Anna's rehabilitation course costs EUR 7,000
Varvara Yatskova, 8 y. o., Stavropol, Russia, tracheostomy, consequences of a car accident.
Five years ago, the girl survived a car accident. Her father died on the spot, her mother remained in coma for a long time. The child has become disabled. Since the age of three, she has been using a tracheostomy tube. She survived an unsuccessful attempt to remove the tracheostomy in St. Petersburg hospital and 11 operations at a German clinic in Wiesbaden, after which Varvara began to speak slowly. But if she does not continue the treatment in January, the stenosis will contract again, and this means that all these operations will be in vain. Varvava really wants to talk and breathe, like all children do. After all, she already goes to school!
The price tag is EUR 19.300
To conclude, let me remind you that we collect the funds only on our two accounts, the details of which are listed below!
Please find more details at our website https://www.orthodiakonia.de/en/donate/ .
HURRY TO DO GOOD!
I hug you heartily,
yours Alina Titova