JANUARY 2020
We have entered the New Year 2020 altogether! Thanks to all who was with us in the year past! Thank you for your readiness to help a neighbor, become a hope and support to somebody, make the world kinder!
With your efforts, in 2019 we have raised about EUR 95,000. With this money, the children
have been treated in hospitals, got medical equipment, medicines, flew on the planes, lived in apartments with their families during the treatment. And their parents were able to devote more time and energy to their children.
Money came from the organizations as well as the private donors.
Many thanks to those who transferred money on a regular basis. You are our reliable foundation and guarantee of efficient assistance to our care-receivers! A small but regular donation does a great job!
Special thanks to those who donated to sick children and adults the money received as a gift for their wedding or birthday. To remember the others in distress when you feel good and joyful is a rare and valuable human quality!
All the names provided by the donors for prayer support are included in our common monthly prayer list. The names are commemorated at prayers in all the churches and monasteries where this information letter is distributed.
For the whole year, with your help, we have supported 49 care-receivers, children and adults!
Partially, the bills have been paid by the German charity funds. We help the care-receivers to apply to these funds.
With the efforts of our volunteers, the funds have financed the treatment of 22 care-receivers, for EUR 360,000 in total.

And we do not stop helping!
In December, with your help, we have bought a walker for a boy from Vladivostok, Dima Rudenko, 11 years old, cerebral palsy; paid for housing in Cologne for the family of Kamila Koraeva, 9 years old, from Vladikavkaz, recurrent neuroblastoma; partially paid a rehabilitation course to Nikita Kucherenko, 18 years old, from Nikolaev, cerebral palsy.
So the New Year holidays were a success! Thanks to everyone who made them festive not only for themselves, but also for others!
In January, your help is expected by: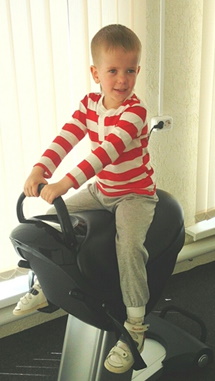 Artem Agarkov, 7 years old, from Volgodonsk, Russia, organic damage to the central nervous system, hydrocephalus.
Artem was born prematurely. On the 3rd day of his life, he underwent an operation. At the age 10 months, Artem stopped turning over, the development was noticeably slowed down. There was again an operation, and then 2 years of treatment in a neurological clinic. At the age of 3, there was yet another operation. In total, Artem has survived 5 surgeries, a plenty of MRI and anesthesia. He requires a quality rehabilitation. For several years, the boy has been undergoing rehabilitation in the Taganrog Health Center and has achieved significant results. The mother of Artem brings up and treats the child alone, is constantly with him and cannot work. The family lives on the child's benefits and mother's childcare allowance. Everything that could be sold, the mother has sold already. In order to undergo rehabilitation regulary, and live rather than survive, the family needs a monthly support of 200 euros. We are looking for a sponsor who can provide such support for six months.
Ivan Boyko, 47 years old, Russia, Moscow, acinar adenocarcinoma of the prostrate.
In January 2019, the doctors diagnosed stage 4 oncology by Ivan. The serious kidney problems have begun, 4 courses of hemodialysis were completed, 2 nephrostomy tubes were installed. Ivan underwent chemotherapy, hormone therapy. However, in July 2019, doctors found that the treatment did not bring the expected results. They could not offer any other treatment in Russia, so the family turned to specialists from other countries for consultations. Professor S. Dresel, Head of the Department of Nuclear Medicine, from the German clinic Helios Berlin, offered several courses with an interval of 8 weeks. The cost of each course is more than 6000 euros. To date, 2 courses have already been done and have given a positive reaction: metastases in the bones and lymph nodes are reduced. However, the tumor itself has responded poorly, so the doctors decided to add another isotope. The doctors predict that 6 courses are required. This is the only chance to save his life.
Ivan has 2 children: 16 and 5 years old. The children expect the dad back home. The doctors give good forecasts, and the family believes in a speedy recovery. All relatives, friends and colleagues help the family in raising money for the treatment. Still they need another EUR 14,000.
Dobro More
The next rehabilitation and training program period for care-receivers and volunteers of DobroMore will be held on March 10-22, 2020 in Montenegro.
The pilot program period for families in which a child went through a serious illness has gathered 11 volunteers and 13 care-receivers in October 2019. The result exceeded all expectations. Now we know what to do, and how to do. To get updates, please subscribe to our pages at the Facebook and Instagram, and also visit the website dobromore.eu. We have opened the search for volunteers and families for the March program period. The application forms are at the site. We are also looking for sponsors for the program. I will be glad to answer all questions personally, via e-mail or by phone.
We urgently need a coordinator for working with the parents of care-receivers for the next DobroMore program period, preferably with the possibility to come for the period on March 10-22 to the sea in Montenegro. If you wish to try yourself in this function, please write to me soon to dobromore2019@gmail.com
Our annual Volunteer Day will be held July 3-5, 2020 in Hamburg.
The Volunteer Day 2019 was a great success. As usual, we gathered to support and motivate each other, learn from the professionals, take the best that was invented in the world and works in our field.
The famous and rare speakers were the guests of Volunteer Day 2019: Frederica de Graaf, Bishop Panteleimon (Shatov), Pascal Lepin, Konstantin Sedov and others.
Who will speak on the Volunteer Day 2020? It is still a secret. But I am sure that we will be able to maintain the high level. I ask all volunteers to reserve three days, in 2020 it is July 3-5, to come for the Volunteer Day.
And another request. I am in need of a personal assistant and press officer who can calmly deal with formal tasks, keep information and documentation in order, and also easily communicate and negotiate with individuals and organizations. If someone is ready and willing to help me, please write to alina.titova@orthodiakonia.de or call +49 178 5408805. I'm waiting for you!
HURRY TO DO GOOD!
I heartily embrace everyone
Yours Alina Titova