JANUARY 2021
Dear friends, blessed Christmas to you!
The wonderful New Year's holidays have just passed. Thank you for using this time for active participation in good deeds! With your help, we have brought joy to many children and families.
The gifts and congratulations have been sent to our care-receivers undergoing treatment in Germany, those in Russia, Ukraine, Belarus, who returned home after a treatment or are still preparing for a treatment, to the families who took part in DobroMore rehabilitation programs, and to low-income families with sick children in Montenegro — in total, to about 100 families and 150 children.
Some responses:
"Many thanks to everyone who has helped and taken part …. You bring happiness and joy not only to children, but also to us, the parents …. Low bow for your kind hearts !!!!!!!!!"
"We got your gifts! Thank you very much !!!!! 🙏I can't even express how unexpected and pleasant it is! It's so joyful that you remember us🥰 Ruslan, when he has found out about the gifts, sat at the door for an hour anxious not to miss the moment of delivery 😂 He unpacked it himself and was very happy). Thanks again to your whole team, to all who feels involved 🙏 Owing to such people, the world is changing for the better! We wish you great happiness, good health, and to all your loved ones! Let the troubles bypass your homes, let you children grow up and make you happy. We are happy to meet on our way. We hope to see you soon! Take care of yourself! With love and gratitude!"
"Just in time for the Christmas table 🙏 How wonderful you are! Thank you very much. We also wish you wonderful holidays!"
In January, our help is awaited by: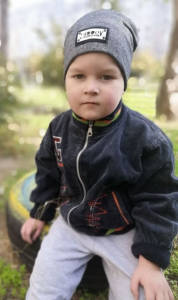 Danila Miroshnichenko, 4 years old, Ukraine, Dnepropetrovsk region. Diagnosis: heart disease.
The long-awaited baby in the young family was born without complications. However, the doctors became worried at the scheduled examination of the newborn. It turned out that Danila has a complex heart defect. The boy underwent several heart surgeries, a pacemaker was installed, but for the normal functioning of the heart and the growth of the body, a Fontaine surgery is also required. This surgery can be done in a clinic in Bonn, Germany. The cost is EUR 62,000. A part of this amount has been collected, EUR 27,000 is still required.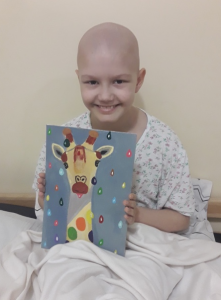 Karina Raimova, 9 years old, Ukraine, Nikolaev. Diagnosis: acute myeloid leukemia.
Karina has been ill since December 2019. The girl underwent a treatment: 5 blocks of high-dose polychemotherapy. She felt better, but the disease relapsed by autumn. Karina underwent a block of anti-relapse therapy, but the disease does not respond to this treatment. In Ukraine, the doctors have exhausted their possibilities and recommended contacting Sheba clinic in Tel Aviv for a bone marrow transplant. The girl has a good prognosis for recovery. But the amount required: EUR 205,000, is unaffordable for the family is needed. The parents have raised EUR 25,000 for the first installment. Karina and her mother are already in Israel now. Because of pandemic, they are quarantined in a special sterile box at the clinic. To start the treatment and the preparation of the donor, it is necessary to transfer to the clinics another EUR 180,000.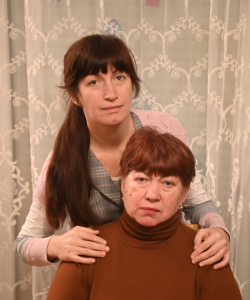 Natalia Gergel, 62 years old, Ukraine, Odessa. Diagnosis: breast cancer.
Two months ago, Natalia was diagnosed with a breast tumor. The tests carried out have revealed cancer. In Ukraine, the doctors are not able to help.
German doctors have proposed a treatment that consists of preoperative chemotherapy with antibodies and a surgery to remove the tumor. The treatment with the surgery costs EUR 45,000 euros. The children and grandchildren are doing everything possible to raise the required amount and start the treatment as early as possible. The sooner the treatment begins, the easier it will be to defeat the disease.
From the letter of her daughter:
"Please help me to save my mother!
My family and I are asking you to help my dear mother. We are trying very hard to sort in out on our own, but we cannot collect the necessary amount to start the treatment ontime! The treatment course is already scheduled on 01/18/2021!
I firmly believe that, by the grace of God and with your help, my dear mother and the grandmother beloved by her grandchildren will definitely recover and will give a joy to all of us for a long time!"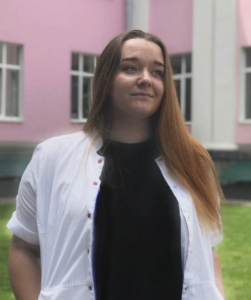 Veronika Lesik, 20 years old, Ukraine, Kiev. Diagnosis: schwannoma of the cervical spine.
Veronika has a rare tumor in the cervical spine. The girl was operated on and underwent a treatment, but the tumor continues to grow and give metastases. Unfortunately, there are currently no treatment protocols for this type of tumor. Now Veronika is with her mother at Rechts der Isar clinic in Munich. Two surgeries have been performed, but yet another is required to remove metastases in the thoracic region, as well as post-operation recovery and radiation therapy. Also, a molecular study of the tumor and examination of PET CT are necessary, this will determine the plan of further treatment. The family has already paid for a part of the treatment, but they need another EUR 30,000.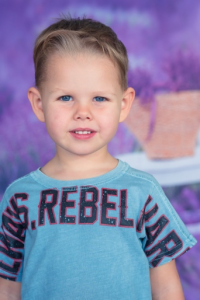 Andrey Turov, 4 years old, Barnaul, Russia. Diagnosis: Ewing's sarcoma.
Andrey was born on New Year's Eve. For the parents, it was the best long-awaited gift. Andrei grew up as a healthy boy without any problems. Several months ago the boy began to complain of abdominal pain. An ultrasound examination revealed a formation of unknown origin in the retroperitoneal space. The boy was immediately hospitalized and treated, but it turned out that the initial diagnosis was wrong. In December 2020, Ewing's sarcoma (malignant tumor of the bone skeleton) was finally diagnosed. The parents applied to Dmitry Rogachev Medical Centre, but there are currently no places there. The parent's inquiries have been answered at Cologne University Hospital, Germany. However, the cost of the treatment is enormous: EUR 390,000. The family has raised a part of this sum. It remains to collect another EUR 260,000.
Let me conclude with some numbers, mere numbers behind which are living people, their misfortune and joy. In 2020, you have paid for the treatment and support of the families the amount of EUR 77,500. Our volunteers have helped to our care-receivers to acquire EUR 220,000 from German charity funds for the surgeries and treatments. In total, when summing up the various help requests, such as finding a clinic, money, translation, purchasing medical equipment, volunteer support on the spot, etc., we report 170 care-receivers and their families have received our help. We are glad to do our Good Deed together with you. Thank you for your reliable support!
HURRY TO DO GOOD!
I wish health to you all! Take care of yourself and your loved ones!
I embrace you heartily,
Yours Alina Titova