JANUARY 2023
Dear friends!
Thank you. Owing to your support, we have the strength to fight the darkness around, to fight for life – for every life. This is especially important now, when humanity is being trampled on, God is being forgotten, terrible tragedies are taking place in Ukraine, the war goes on and on. We must endure. The good must overcome.
In year 2022, we have helped 127 families with sick children. Of these, 13 families have received, with our help, the funds from German charity organizations for complex operations:
€ 170,000 in total. With your help, we have also collected and made use of about € 115,000 for treatment, medicines, and support for the families during the treatment.
In addition, € 30,000 more were raised to help Ukraine. These funds were used to assist the evacuation of the families with sick children and adults to Germany in March-April 2022, to support them in a new place they arrived to, for treatment and medicines for those who could not leave and stayed, to provide psychological assistance. About 70 families from Ukraine have received and continue to receive our help.
The tragedies go one after the other: Zaporizhzhia, Dnipro, Brovary … The criminal and inhuman war continues. People perish. Children perish.
This pain is impossible to get used to. We cannot get tired, nor forget. We continue to help and do everything in our power to stop the war and help those affected by it. You can join us! While stopping the war at once is not in our power, we can remain human and act like reasonable human beings with a heart.
We need about € 10,000 to transport seriously injured children to German clinics and to help with medicines and supplies on the spot.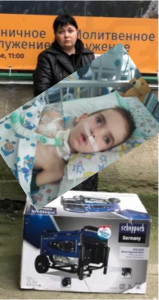 Our Light and Warmth campaign has been successfully running since December 2022. A response: « We are very, very grateful to you from the bottom of our hearts, you are really wonderful, you do not turn away from people in difficult moments, may God grant you greater prosperity.»
We thank all the donors from Germany, the Netherlands, Montenegro, United States! One of the first electric generators was received in the Odessa region by Matvey Obushenko, 7 years old, congenital motor-sensory neuropathy, whose life depends on interruptible supply of the oxygen apparatus. The necessary medicines were also sent to him. We appreciate the support of our German colleagues and the work of our coordinators in Regensburg and Bremen. The fundraising for electric generators and chemical heating pads goes on.
In December, we have also sent medicines to Karolina Teremta, Nizhny Novgorod, 7 years old, epilepsy, bought gifts for our care-receivers, congratulated the little patients of German clinics.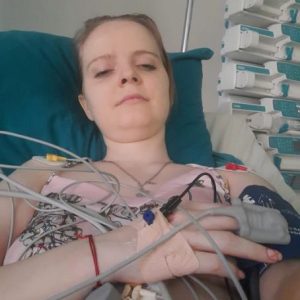 In January, we ask for your help for Anastasia Kuptsova, 33 years old, Ukraine, Kyiv, multiple sclerosis.
Anastasia is the mother of 3 children. Just recently, she moved from Donetsk to Kyiv: her doctor is there. A few years ago, she was diagnosed with multiple sclerosis. She was prescribed a treatment with OCREVUS. It is necessary to undergo the complete course of treatment. There have already been 8 injections, according to the doctors, two more are needed. Then the doctors promise a few more years of life for Anastasia. Every year of life is priceless for Nastya because, in addition to the children, she has a brother with a disability to care about. Now Anastasia is on her own feet. Despite severe pain, she takes care of her children and the brother. A wide fundraising campaign helped Nastya to collect funds for one bottle of OCREVUS, but she needs one bottle more… She should receive the injection by the end of January. Otherwise, she will not survive.
The price of the bottle is € 12,621.
HURRY TO DO GOOD!
I wish health to you all! Take care of yourself and your loved ones!
I embrace you heartily,
Yours Alina Titova