JULY-AUGUST 2020
Hello everybody!
With us, helping others is easy! Even in difficult times.
We support the families in Russia and the families of children who came to Europe for treatment.
In the last months, we have managed to help:
– to pay off the housing debt of the family of Ilya Sorokin, 19 y.o., Vladimir Region, Russia, consequences of traumatic brain injury;
– to support financially Kochnov family from Rostov region, Russia, where all three children are sick: Luka, 6 years old, bronchopulmonary diplegia, Vanya, 8 years old, cerebral palsy, hearing loss, optic nerve atrophy, Damir, 13 years old, asthma;
– to pay off a part of travel expenses for treatment of archpriest Vyacheslav Perevezentsev, cancer;
– to pay off a part of a rehabilitation course in Crimea to Yaroslav Andreev, Kaluga, Russia, 9 y.o., cerebral palsy.
And this is not only about financial assistance, but also about showing care – often this help is no less important than the financial one. Thank you for being with us!
In August, our help is awaited by: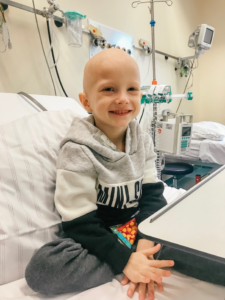 Alexey Afonin, 5 years old, St. Petersburg, neuroblastoma of the right adrenal gland, high-risk group. Since June 2019, he has been undergoing treatment at the University Hospital Cologne, Germany. The child was refused admission to treatment by medical organizations in Russia, so he had to fly to Germany. During the last year, Alexey underwent 6 courses of chemotherapy, including a high-dose one, a surgery to remove the tumor, and bone marrow transplantation. On the results of the treatment, the child has reached the remission without any signs of illness. In May this year, the main treatment was completed. The next stage – immunotherapy- has began . Alexey is already preparing for the second course of immunotherapy. In total, according to the protocol, he needs to undergo 5 such courses.
To date, yet EUR 35.000 is required to complete the treatment.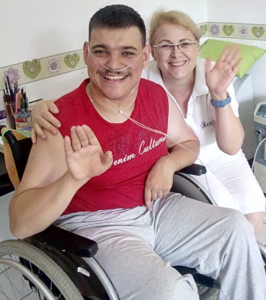 Artem Kashira, 23 y.o., Tula region, Russia, traumatic brain injury upon birth. From his first days, he undergoes constant treatment and rehabilitation. Five operations have been done. Earlier, Artem could not even sit on his own, neither hold anything in his hands. Now he walks with support over short distances. Recent rehabilitation at the Adelie Center in Slovakia gave remarkable results. He acquired many skills, but there is still lack of confidence and stress in his legs, that greatly interferes with the movements. Rehabilitation is needed every year in order not to lose these achievements.
Artem lives with his retired parents at the countryside. All their life, the parents have been trying to put their son on his feet, to help him survive in this world, which is not at all adapted for people like him. They find it increasingly difficult to care for their son. All these years the mother was by his side: in hospitals, in the rehabilitation centers, drove him to school for 11 years. Now Artem's dream is to become a support for his parents.
Artem had to quit university due to financial hardships. But he writes poetry for a charity fund, and supports others.
The next rehabilitation course costs 6,416 euros.
Please subscribe to our pages in social networks:
www.facebook.com/orthodiakonia/
vk.com/orthodiakonia
www.instagram.com/orthodiakonia/
HURRY TO DO GOOD!
I wish health to you all! Take care of yourself and your loved ones!
I embrace you heartily,
Yours Alina Titova