Letter of gratitude and request
Greetings to you, our friends far away – friends that are so close!
Our family is very grateful for your help and support. Our daughter Inna, the only and beloved child, suffers from her birth from cerebral palsy, double hemiplegia, episyndrome. She cannot even sit by her own, she is cot case. She is already an adult, she is sixteen. Sometimes it is very difficult, it seems a dead end and we lose heart. Yet God does not leave us sending kind and hearten people ready to help in a bad moment. So has it came about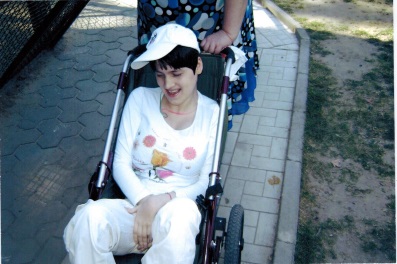 now. The volunteers Lena and Galya Chechik has helped us with a pleasant gift – they brought wheelchair that we have already used to transport Inna to the planned medical investigation, and many good and needed clothes for our daughter. We are grateful to Alina Titova, the head of Russian Orthodox Diakonia in Europe "Good Deed", and for the wheelchair – the Harlaching clinics in Munich, its director Kai Trecker and employee Galina Volokhova. It is very important to find people that care about us, and provide support and help.
Thank you so much. With full respect and gratitude,
Natalya Zharko, mother of Inna
The family requires EUR 100 per month for medicine. We search sponsors that are ready to support Inna and her parents. We will be thankful for your response!