MAY 2018
Hello everyone!
Dear friends, thank you for your support.
In April we contributed to the payment for the rehabilitation course in Budapest for Alexey Holkin, 11 years, ICP, epilepsy; we found a sponsor for a long term support for Artem Agarkov, 5 years, Rostov region, Ileus, intestinal atresia and hypercephalus; and paid for the purchase of a house for the Kochnovyj family with multiple children, from Donetsk.
In May we ask you to help:
…our old friend Denis Krasnikov, 14 years, diagnosed with ICP, tetraparesis, anorexia, epilepsy outside of relapse. His mum, who is the sole parent and recently went through an oncologic illness herself, brought Denis to Germany for a diagnosis and another rehabilitation. The boy is growing, is learning to walk and makes good progress. The equipment that supports him – orthotics – were funded by the Russian fund 'Help to save a life'. The orthotics require special shoes. They cost 613,80€ for two pairs.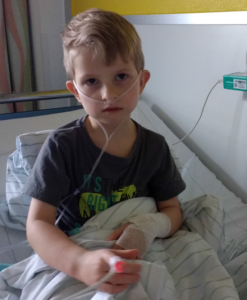 …Savva Linenkov, 5 years, from Ukraine, esophageal atresia and tracheoesophageal septum relapse, gastroesophageal reflux. A year ago the child had an operation on the esophagus. More than a thousand people from Ukraine helped to raise the funds for the treatment in Germany. Three German funds supported him during the post surgical period. Now it is necessary to continue treatment and to observe the esophagus and stomach. Asklepioskinderklinik in Sankt- Augustin put forward a bill of 4000€. 1900€ remain to be collected.
The family, which has to stay around him at the hospital for prolonged periods of time, as he can't be supported at home, desperately needs funds for food and everyday needs. Per month they need around 300€.
…our little girl Maria Laputina, 2,5 years, Sumsk Reg., hydrocephalus, shunt, ICP, severe case of epilepsy, Vesta syndrome. The girl is now undergoing a treatment at the Berlin clinic Helios and for her quickest development she needs a special medical equipment called Motomed. A used one costs around 1000€.
I would like to remind you that on the 6-8th of July there will be the Day of the Volunteer in Darmstadt. As usual, apart from the exchange of experience between the volunteers and volunteer groups from different countries, there will also be meetings and masterclasses with valuable specialists and interesting people in the field, amongst which there will be the representative of the German charity organisation Caritas, the Mother Superior of a women's orthodox monastery, directors of Russian charity foundations and organisations and coordinators of socio-communal and business projects. We will get to know each other, answer work-related questions, discuss the topics of serving and intended purpose, the interrelationship of worldly and clerical benevolence, the possibilities of working together with deaconry and benevolence structures from other countries and the necessity of happiness and spiritual growth for the volunteer. The registration for the Day of the Volunteer closes on the 30th of June. Free spaces in the hotel can only be guaranteed with a sign-up before the 1st of June. Your chance to register right now is over this link:
goo.gl/23gxpM
See you in Darmstadt!
Take care of yourself and your loved ones!
HURRY TO DO GOOD!
With much love,
Yours Alina
PRAYER LIST FOR MAY:
For the health of:
infants Maria, Galina, Elena, Nicolai, Nadezhda, Zacharia, Roman, Savva, Elizaveta, Elena,
Artemy, Sophia, Savva, Ulyana, Mark,
children Cyrill, Alexey, Alexandra, Anastasia, Fotinia, Inna, Vladimir, Natalya, Irina, Alexey, Elena, Mikhail, Tatyana, Timophey, Dimitry, Ariadna, Eldar (privately), Ruslan (privately), Darya, Roman, Constantine, Varvara, Olga, Valentina, Aglaida, Daniil, Isabella (privately), Yaroslav (privately), Varvara,
Daniil, Anna, Maria, archpriest Sergy, Tatyana, Victoria
For the health of our volunteers and friends and for God's help in their every good deed:
Mikhail, Xenia, Natalya, Sophia, Tatyana, Sergy, Domna, Natalya, Evgenya, Andrey, Olga, Alexandr, Xenia, Yulia, Elena, Iohanna (privately), Victor, Veronica, Veronica, Yuliania, Sergy, Angelina, Нины, Yulia, Ekatherina, Irina, Olga, Angelina, Lyudmila, Larissa, Natalya, Alla, Alla, Elena Olga, Lyudmila, Irina, Vera,Olga, Olga, Alexandra, Lyudmila, Marina, Maria, Lyubov, Larissa, Irina, Alexandra, Sophia, Anna, Elena, Lidia, Elena, Lidya, Elena, Xenia, Irina, Ekatherina, Elena, Nicolai, Lyudmila, Olga, Vera, Alla, Angelina, Sergy, Alexandr, Galina, Yuli, Anton, Nikolai, Elena, Evgenya, Elena, Marina, Marina, Margarita, Daniil, Andrey, Xenia
Please also pray for their relatives!