NOVEMBER 2017
Dear friends,
The winter cold sets in … All of us in these days need heartwarming support of each other.
Thank you for being with us!
In October:
– Owing to the seamless teamwork of our volunteers in Moscow and Munich, we have delivered the medicine to Artem Meshcheryakov,6 years old, ichthyosis, Moscow
– We have paid the surgery and medicine for Stepan Tishkov, 9 years old, CLOVES syndrome, Kharkov.

Let me present our care-receivers in November.
Excerpts from the letters of mothers:
Nikita Kucherenko, 16, Nikolaev, cerebral palsy: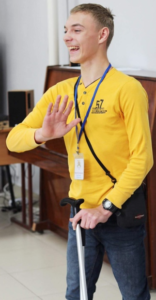 "… Nikita is already in the tenth grade. He walks with the help of sticks. He goes to school himself, since it is close to our house. Our youngest daughter Dashulya is already in the first grade. Their grandmother helps me with these two — there is no way otherwise.
Three times a week Nikita goes to the gym. In the sports club, we have organized a group for teenagers with disabilities. We have been received very warmly. And the boys like it.
In addition, he goes to a computer school three times a week. We were given a reserved place at the school for three months. This is very cool!
And the most important news. The other day, Nikita himself was able to go to the gym unaccompanied, there and back. Just by himself, first taking the bus, then getting through two pedestrian crossings. Of course, I was very anxious while waiting for him at the bus stop by our house. Still he is unsteady on his feet. He can fall at a place with no obstacles. But this was his initiative. And this is a very big breakthrough!
Well, still only the crossings with traffic lights are doable for him. And not all the buses are suitable. Many of them have too high steps. But I'm crying with joy. This is a great victory.
If possible, please help with the fund raising for the next course. For January, we have booked a course in Ratingen in Thera Reha. The bill is € 3,600 for the treatment and € 700 for the accommodation.
We would be grateful for any help. "
Dima Sherstoboev, 9 years old, Kemerovo region, Russia, neuroblastoma:
"… Dima is now in grave condition at the oncology department in Cologne. In the autumn of 2017, 4 years after the treatment, we got a relapse. From the history of Dima's disease: he has passed 8 blocks of chemotherapy in the cities of Kemerovo and Novokuznetsk,, In 2012 he underwent a surgery in Moscow where the spleen, one kidney, gallbladder, and 30% of the pancreas have been removed. After that, Dima was sent to Germany, University Clinic of Cologne. The complete treatment has been performed: 6 blocks of chemotherapy, bone marrow transplantation, mibg-therapy. All treatment costs were paid by the Russian charity funds "Podari zhizn" and "Rusfond". In the beginning in 2013, Dima flew to Germany for a checkup every 3 months. In October 2017, a relapse with a massive bone marrow lesion was diagnosed. For the forthcoming treatment, the clinic has invoiced 500 000 thousand euros. With all our forces and means we are trying to collect this astronomical sum. It is not clear how to do this. There are no treatment options for us in Russia. The husband took an unpaid leave at work to be near the child, because he really needs this. In addition to a huge bill, we need to pay for accommodation in a guest house on the territory of the clinic. This is about 20 € per day. Any help for us now is worth its weight in gold … "

I will also let myself to put into this letter an urgent call concerning the help for our care-receivers in the organization of the treatment abroad. I invite volunteers to our clinic department: people with knowledge of German and who are ready to help our care-receivers with the requests to the clinics!
Please write to me to answer@orthodiakonia.de or to WhatsApp: +49 178 5408805
HURRY TO DO GOOD!
Warm hugs,
yours Alina Titova
PRAYER LIST FOR NOVEMBER:
For the health of:
infants: Nikolai, Aleksiy, Elena, Nadezhda, Mikhail, Tatyana, Maria, Elisaveta, Elena, Victoria, Daniil, Ekatherina, Diana, Savva, Sophia, Alexandra
children: Valentina, Constantin, Anastasia, Svetlana, Inna, Natalya, Irina, Dmitry, Ariadna, Maxim, Maxim, Roman, Nikita, Dmitry, Daniil, Eldar(privately), Ruslana (privately)
sick: Aglaida, archpriest Sergi, archpriest Ilya, Daniil, Mikhail
For the health of our volunteers and friends and for God's help in their every good deed:
Elena, Irina, Vladimir, Lyudmila Maxim, Yulia, Ekatherina; Angelina, Ksenia, Irina; Ksenia, Elena, Maria, Dariya, Olga, Larissa, Kristina; Olga, Olga, Olga, Alexandra, Mikhail, Natalya, Tatyana, Alla; Alexandr, Lyubov, Larissa, Alexandr, Alexandra, Sophia, Anna, Elena; Angelina, Sergi, Alexandra, Galina, Yuli, Anton, Nikolai, Elena, Evgenya, Elena, Marina, Marina, Margarita, Daniil, Andrey, Ksenia; reader Alexandr, reader Andrey, priest Alexiy, priest Ilya, priest Alexandr, priest Victor.
Please also pray for their relatives!