OCTOBER 2016
Dear friends!
This is what we achieved in the short month of September.
Andrey Dmitriev, 9 y.o. from Donetsk, spine wound, has completed a rehabilitation course at the Helios clinic and is now able to walk again for the first time since he was wounded. The family went home until the next surgery, scheduled for April, which will remove the metal implants. The Diakonia has paid for their tickets. I would like to thank the community of Berlin who have organized the departure of Andrey.
Diakonia has also partly paid for the rehabilitation of Gleb Kazakov, cerebral palsy, 5 y.o., in Russian center "Sakura".
Thanks to you, dear friends, we were able to collect and transfer significant funds for the treatment of Sophia Dukasheva, 5. y.o., leukemia, who is waiting for the bone marrow transplantation in Wurzburg hospital. The parents of late Ilya Spinov, for whom we collected funds earlier on this summer, have donated EUR 5,000 for the treatment of Sophia. I would also like to thank the Regensburg group who raised funds for Sophia at the autumn charity bazaar.
We have donated funds for medicine to Volyn orphanage.
We have collected the funds for rehabilitation of Vanya Kochnov, 4 y.o., cerebral palsy, from Donetsk.
The autumn charity ball in Berlin, which was organized by our local group, turned out to be very successful. Around 800 euros have been raised. A part of the sum has been transferred to Aglaya Mysovskaya for a prolongation of her medical visa in Germany.
Our children for october: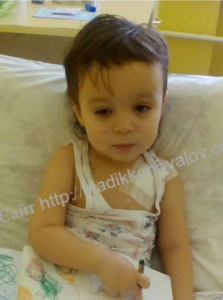 Vladislav Konovalov
, 3 y.o, from Brovary, aplastic anemia. The immune system of the child is dysfunctional and his state is getting worse. At the moment, he is frantically fighting for his life in the Kiev hospital "Ohmatdit". The only way to save his life is a marrow bone transplant from an unrelated donor, which is impossible in Ukraine. In Italy they offer such a treatment for EUR 140,500. EUR 120,000 are yet to be collected.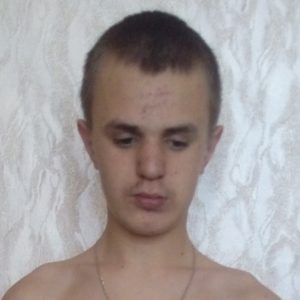 Valery Davyskub
, 16 y.o, from Lugansk, hypophosphatemic rickets, is the eldest child in a big family. He is disabled with a rare genetic disease whereby the phosphorous-calcium exchange is distorted resulting in severe bone malformation. The doctors cannot cure this disease fully yet, but there is a chance to ease the lad's suffering and give him the confidence in a bright future which is very much needed in the teenage years! Valery requires a certain medicine for survival, Alpha D3-Teva®; for the moment it costs about 50 euro per month.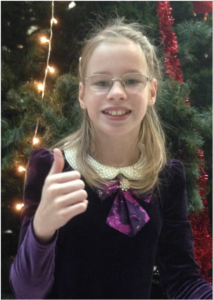 Anna Ionova
, 11 y.o., ICP, from Moscow, is a fifth grade pupil. Her classmates love her at school for her friendly and cheerful disposition; they meet her with joy any time she returns to the class after a period of treatment. She has been going for rehabilitation at the German clinic TeraReha for the last 6 years. Before that she could only crawl – now she walks on her own.
Even to the doctors Anna shows an example of success to be achieved by persistent treatments, a good work ethic and determination. They await her in November for the next rehabilitation course – it is very important to have those on a regular basis, in order to not lose the progress and get set back to the wheelchair. However her father has lost his job as a result of a stroke. Her mother cannot work since she needs to take care of her daughter.
The bill for the 3-week course amounts to EUR 5,656, another EUR 700 are required for accommodation. The parents have raised a part of the total amount. We still need to collect EUR 2,265 until November the 15th.
HURRY UP FOR GOOD DEEDS!
Heartfelt hugs, Alina Titova
HURRY TO DO GOOD!
Heartfelt hugs,
your Alina Titova
PRAYER LIST FOR OKTOBER:
For the health of:
infants: Ioann, Varvara, Konstantin, Mikhail, Sophia, Valentin, Elena, Andrey
children: Victoria, Ariadna, Daniil, Andrey, Denis, Igor, Darya, Maksim, Ariadna
Dmitry, Aglaida, archpriest Sergy, Xenia, Nina
Also remember to pray for their relatives!