ОCTOBER 2020
Dear friends,
Thank you all for your support!
Our volunteers, despite the difficult times, continue to help. Now many families with sick children require support – financial, psychological, organizational- more than usual.
We are cooperating even more closely with many organizations, including those in Russia. In recent months, we have managed to provide humanitarian assistance on the spot thanks to the amazing project of our Moscow colleagues Galaktika Dobra ("Galaxy of Good", galaktika.dobra at Instagram) that helps low-income families all over Russia.
Even more support is needed for our care-receivers, who, despite the quarantines and restrictions, manage to break through to Europe for a treatment. Sometimes this is the last chance to save a life. Sometimes the Lord sets it otherwise. But even then, we remain close…
Here are excerpts from a September report of a local volunteer group in Germany:

After the death of Kirill, we have raised money to help his family. We visited them, talked to them, gave money. We keep in touch after their return to Russia.
We have compiled, translated and sent a letter to the Fliege Foundation with an application for 10,000 Euros for Alyosha for the necessary additional treatment. We corresponded with them and
have sent the extra bills from the clinic.
We keep supervising the families of Dima, Radmir and Ulya.
Dima's farther is also sick with oncology. He underwent chemotherapy, and there was an operation in mid-September. We have translated the conversations with the doctor for him. We have collected some money, prayed for him, visited him on his birthday and drank tea with a cake.
The families have been brought to the church for the liturgy. We are incredibly happy to see them in the church and to talk to.
Radmir is undergoing tests this week for a possible relapse, as his leg began to hurt a lot. We pray earnestly for him.
We communicated remotely with the family of Eldar, they always have questions or requests – translation of letters, documents, scheduling visits to the doctors, etc.
We have helped financially the family of Ulya. We have found out from her mother what Ulya is dreaming of, and have already prepared a present for her birthday in November – this is "The Snow
Queen"Lego.
We have compiled a text about the Ulya and posted it with photographs on the information stand of Diaconia for our donors and for all parishioners who pray for children.
We have a new care-receiving family – a boy Artem, 11 years old, neuroblastoma. We keep in touch with them.
We keep in touch with the family of Camila who has left us. We are looking for opportunities to psychologically support our mother, who cannot find comfort after the death of her daughter.
We have held another meeting of our volunteers on Skype, discussed situations for each family; updating information about the care-receivers at the "Good Deed" stand at the parish; money
collection, preparation of the children charity concert and the opportunity to broadcast it online, in particular, to the care-receiving children.
We all – donators, volunteers and care-receivers – are doing a great good deed together. We help the
Good to be in this world! And it is such a joy that we can support each other in this!
In October, help is required by:
Maxim Antonenko, 28 years old, Ukraine. Diagnosis: progressive left-sided squamous cell carcinoma.
Maxim was interested in programming. He was reliable and the only man support for his loved ones. But Maxim fell ill in 2019. It started with stomatitis, and then terrible ulcers appeared in the mouth. Ukrainian doctors could not make a diagnosis for half a year and recommended treatment in Germany. At the University Hospital of Frankfurt am Main, after examination, a diagnosis was made and urgent treatment was prescribed. This treatment is the last chance for Maxim to live!
Its cost is 19,800 euros. The family does not have that much money. To save her son, the mother borrowed the amount needed to start treatment, the sponsors joined. An additional EUR 8,100 is required to complete the treatment.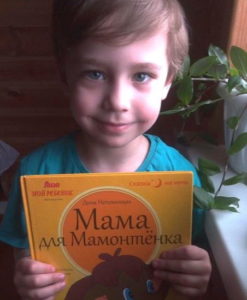 Kondrat Kuzmin, 5 years old, Russia, Nizhny Novgorod region. Diagnosis: general speech underdevelopment of the first degree.
Kondrat is one of 3 children in the family. The boy has problems with speech, restless sleep, enuresis, hyperactivity. Parents do their best and do a lot of various activities with their
son. The boy attends a speech therapy group in a regular kindergarten. His intellectual abilities are preserved, so the parents do not want to send him to correctional schools. Owing
to regular exercises and previous treatment, there are positive changes in the child's condition. However, his neurologist recommends to undergo a treatment in the children's department of neurology and reflexology of the rehabilitation center "Reatsentr Kazansky" in Kazan. This will enable Kondrat to take a significant step in the further development and consolidation of already achieved skills.
The family lives very modestly. Now they are in a difficult financial situation, since they have already taken loans several times for the examination and treatment of their son. A single treatment course costs 600 euros.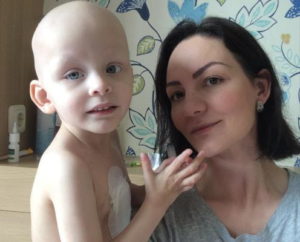 Eva Grabovskaya, 3 years old, Kemerovo, Russia. Diagnosis: neuroblastoma, stage 4.
The fight against the serious illness is going on for a year and a half. At first, the treatment took place in Moscow. Since the main drug for therapy (Dinutuximab-beta) is not
registered in Russia, the treatment must be completed in Germany. The bill for the treatment at the clinic in Greifswald has been paid, but the housing there remains a problem. The planned treatment period is 6 months. The family needs about EUR 5500. However, the family spent all the money on the treatment, so they need help for paying the housing.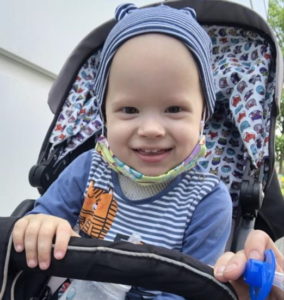 Stepan Potapov, 2 years old, Kursk, Russia. Diagnosis: undifferentiated neuroblastoma (cancer) of the left adrenal gland, stage 4, with metastases to the lymph nodes, bone marrow, bones.
At the very beginning of his life, this small, enduring, cheerful boy was diagnosed with a tumor in the left adrenal gland. But the cause of the boy's deterioration – problems with the pancreas, dropsy of the testicles, loss of appetite, seemingly causeless fever, necrosis of the femoral head – was found only after attending lots of various doctors in various clinics, this required long time.
Stepan has already undergone 5 chemotherapy blocks. It should be followed by an operation to remove the tumor, a chemotherapy block, high-dose chemotherapy and bone marrow transplantation. After the main treatment, the antibody therapy – immunotherapy will be required. The immunotherapy drug is not registered in Russia and is not included in the treatment protocol, although it is vital to avoid the relapse. The child is waiting for immunotherapy at the clinic in the German city of Cologne. The cost of the treatment is too heavy for a single family: EUR 310,000
We also require:
volunteers in the city of Greifswald;
storage place for humanitarian help in Germany;
funds for buying a house for DobroMore rehabilitation center in Montenegro.
If you can help or know somebody who could – please write or call me, I'll give the details. Alina.Titova@orthodiakonia.de, +49 178 5408805.
Subscribe to our pages in social networks:
www.facebook.com/orthodiakonia/
vk.com/orthodiakonia
www.instagram.com/orthodiakonia/
HURRY TO DO GOOD!
I wish health to you all! Take care of yourself and your loved ones!
I embrace you heartily,
Yours Alina Titova