SEPTEMBER 2019
Dear friends, the summer has passed, congratulations with your return to working rhythm and stability.
This summer, with your help, we have managed to help:
to a single mother from Berlin, Vika, to buy a stroller for her baby,
to Ilya Krasilnikov, 4 years old, St. Petersburg, cerebral palsy, tetraparesis, to pay for the rehabilitation in a Polish clinic Olinek, to Elizaveta Ekimova, 7 years old, Tomsk, cerebral palsy, with pay for the rehabilitation in Ratingen clinic.
Thank you for being with us!
In september, our help is awaited by: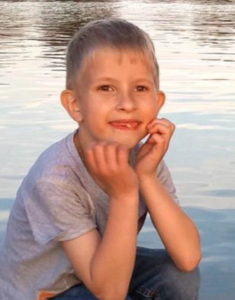 Savva Linenkov, 5 years old, Ukraine, atresia of the esophagus and relapse of the tracheoesophageal fistula, gastroesophageal reflux.
A year ago, the child underwent a surgery on the esophagus. More than a thousand people in Ukraine have helped to raise the funds for this surgery in Germany. The post-surgery treatment was supported by three German foundations. Now it is necessary to continue the treatment and observation of the esophagus and stomach.
To continue to eat normally, it is necessary for Savva to undergo a post-surgery examination and treatment of the esophagus and stomach in a German children's clinic in October. In Ukraine, the doctors cannot help him. There, he could only eat liquid food, solid food did not pass through his esophagus. The bill from the German clinic amounts to EUR 5000. EUR 4150 is already collected, left to raise: EUR 850.
Yaroslav Timchenko, 12 years old, congenital deafness, Minsk
Yarik hears with only the right ear, the left one remains deaf. Because of this, he often does not recognize speech, asks what has been said, and poorly gets where a sound comes from. This makes it much harder for him to study at school, especially in a noisy environment, he has a difficulty to understanding speech, the dictations and languages are very hard for him. Despite all the problems, Yaroslav is a cheerful smart child with hobbies and dreams. He loves to draw, enjoys clay modeling, loves to swim, likes to ride a bicycle, roller skates. Yaroslav is very kind, gullible, he cares for animals.
At the age of 4, the first cochlear implantation operation on the right ear was performed.
From the letter of his mother: "Unfortunately, not so long ago, he developed edema on the site of the implant, as a result of which Yaroslav fell out of normal life for 18 days. He became deaf again. Our son is very concerned, he is waiting with fear for the next swelling. And his hearing is far from the norm. He, owing to the age, begins to develops complexities because of this. In all developed countries, a binaural cochlear implantation is practiced, that is, the operation is done on both ears. In our country (Belarus), such surgery is free of charge for one ear only. "
The family needs to acquire an implant system on their own. It costs EUR 24,000. It consists of an internal part — an implant and an external part – a speech processor. The operation is scheduled for October. They have to collect another EUR 10.000.
Elena Morozova is pregnant with a child who was diagnosed with an intrauterine heart disease. In home country, the doctors advised her to get rid of the baby. Most pregnant women live in joyful expectation of a miracle, prepare for a new stage in their lives. For Elena, the pregnancy is very difficult being impaired with endless emotions and worries, endless thoughts on plans to save the life of the unborn baby.
The aspiring mother is looking for money for the childbirth and the first surgery that should follow immediately.
Several German clinics are ready to help. The smallest bill is 60 thousand euros. We are helping the family to find a clinic, we advise on what can be changed in the bill to reduce it. And we hope to secure a support from German funds for EUR 30,000. The Morozov family has a tremendous task: to find about EUR 30,000 till the baby is born, that is, till the end of November.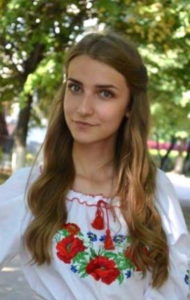 Katya Korol, 20 years old, from Zhytomyr, Ukraine. Due to a childhood accident, Katya got a compression fracture of the vertebra. Since then, the vertebrae squeeze the nerve roots and spinal cord. After many years of living in a terrible pain, the family managed to raise money for the surgery. It was held in 2018. Unfortunately, the installed structure could not withstand the load and has bent, threatening to break. Therefore, the young girl needs an urgent re-operation. The mother works as a teacher in a special school for visually impaired children, the father does not participate in the fate of his daughter. They have found a clinic in Vinnitsa, Ukraine. The bill for the surgery is EUR 5,200.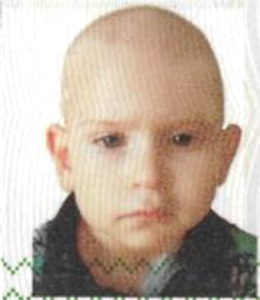 Ruslan Vakhrushin, 2 years old, Gomel region, Belarus, kidney sarcoma (kidney cancer).
In the last months of his short life, the baby has underwent two surgeries, a kidney removal, and 4 chemotherapy blocks. Everything has happened so fast and unexpected that Ruslan and his parents are still not used to their new reality. Ruslan has a rare disease. They can no longer help him in Belarus. His papers were sent to the German clinic Helios Klinikum Berlin-Buch, which specializes in the treatment of this disease. The clinic gave the family a hope, it is ready to accept Ruslan. Yet the treatment costs amount to EUR 65,000. The parents have raised EUR 10,000 selling all the valuable property. Good people have raised more than EUR 22,000. However, it remains to collect EUR 33,000.
Sergey Derkach, 28 years old, Ukraine, retroperitoneal hemangioendotheliopericytoma with spread to the spinal canal. For 19 years, the young man has been fighting for his health. Below we give the excerpts from his letter:
"The disease was diagnosed in 2000, when a tumor near the spine in soft tissues with spread to the spinal canal was found in the clinic of the National Institute of Oncology in Kiev. Then, after several courses of chemotherapy and radiation therapy in 2002, I had an operation. The tumor was removed, after the operation I had chemotherapy and radiation therapy, and hepatitis C was found.
In addition to this, 3 years after the oncology treatment, since 2005, my spine has begun to deform significantly. Because of this, I had pain in my legs and spine, and it got worse every day. I could hardly walk anymore. In 2010, I went to the Okhmatdet clinic in Kiev, where I underwent an examination and was diagnosed with kyphoscoliosis. The doctors said that it is necessary to perform a complex operation to stabilize the spine. In the same year I had this surgery, they leveled the spine and installed a metal structure. Everything went well and every day it became better. There was no pain, and I could walk a little, but, unfortunately, I fell two months after the surgery. The structure could not stand it, so the spine was bent and the pain came again. It got worse and worse, the structure had to be changed, and, in addition, hepatitis B was found.
Unfortunately, in Ukraine no one dared to undertake a second surgery. In 2011, I went to Shiba clinic in Israel, where they examined me and said that I had to undergo a surgery. In the same year, I had the operation. They have changed the design of the structure, removed the first vertebra of the lumbar region and installed an implant, but after this operation my condition has worsened significantly. For already eight years, I can neither walk nor sit, and throughout all this time I have been tormented by constant severe pain in my legs and spine and a strong burning sensation in my legs. Every day I have to take painkillers that do not always help. I consulted with many doctors in Ukraine, Russia and Germany. The doctors said that there is instability of the spine and the implant has not taken root. No one, except Professor Harms, dared to do such a complicated operation. Professor Harms said that he is ready to help me. I had to do a very complicated operation to correct the spinal deformation, revise the ventral instrumentation and remove the ossified structures of the non-integrated cage. He said that a new ventral support will be installed with the layering of a large amount of own bone material. Thus, there is an opportunity to get rid of pain and a chance to recover, since I still have leg sensitivity and can move the legs.
For me, this operation is the last chance. I recently spent two weeks in a hospital because I felt very bad. I had a high fever and my legs were swollen. After the examination, I was diagnosed with vein thrombosis in both legs and diabetes. My condition is serious and is constantly getting worse. To avoid further deterioration, I need a very complicated spinal surgery that Professor Harms can do. "
The bill from the German clinic is enormous for the family that has exhausted all its resources in many years of fighting the disease. It amounts to EUR 76,150.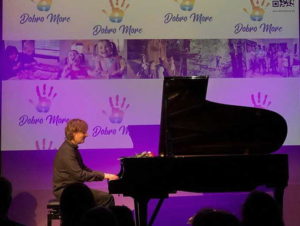 On September 6, we have held a charity concert in the Russian center of the Tchaikovsky House in Hamburg to help the DobroMore program of our Diakonia. The virtuoso pianist Egor Egorov performed works by Mozart, Chopin and Rachmaninov. Once again, I wish to thank the coordinator of the Berlin volunteer group, Irina, all our volunteers and friends who have organized the concert, as well as all the guests who have attended. With your help, we managed to raise a significant amount for the first rehabilitation program in Montenegro for children who have overcome a serious illness.
The first family program period at the DobroMore Rehabilitation and Education Center will take place in Montenegro from October 12 to 22. We invite to take a course of psychological rehabilitation and to relax by the sea the families of children who have experienced a serious illness, and the volunteers who want to accompany and help families. The first volunteers and care-receivers have already been selected, the masters are purchasing material for the master classes, the specialists are preparing to conduct the trainings. Join now! We will be glad to your help, as a volunteer or as sponsorship. Additional information is available in the Dobro_more Facebook group. You can donate using our usual bank details adding the word DobroMore as the payment purpose. In Russia, you can also send a SMS donation to 3434 with the word Доброморе and the amount donated
HURRY TO MAKE GOOD!
I heartily embrace everyone
Yours Alina Titova