Our charity bazaar in Stuttgart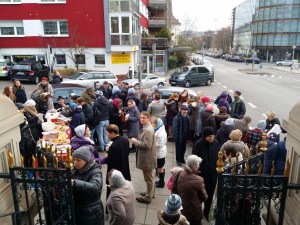 Photos
Let me start from the most important thing – thanks to your participation, we've collected an incredibly big sum! Perhaps, this was the most successful bazaar in all orthodox parishes in Germany.
Many thanks to dear visitors and donators, to craftswomen of our parish that filled and decorated the bazaar with their handwork. Many thanks to housewives that brought cakes and pastry – you can't have enough of this stuff. Many thanks to relentless sellers and helpers. The success of "Good Deed" bazaar came about your kind attention, time donated, painstacking labour, and will to help.
Hand-painted wooden balls with pock, elegant Christmas trees and little churches for several years are offered as a gift to our bazaar by the Russian artist from the Urals: Tatyana Haylfinger.
Fine brooches – nylon roses are provided to us by the master Natalia Miklush from Ukraine. We hope very much that Tatiana and Natalia will surprise us with their new wonderful crafts for the Easter bazaar.
We have already transferred a part of money to Diakonia, including the special support for Andryusha Dmitriev, 9 years old, from Yenakiyevo, Donetsk region, with shrapnel in his spine, to come for treatment in Bonn. And for eight-year-old Zahar from the Moscow region with cerebral palsy to get a special simulator, which will allow him to learn to walk on his own.
The support will also go to the kids we care of in Stuttgart: Andrei Lysenko with his mother Natasha and Denis Sviridenko with his mother Marina.
There are many more kids to help to – just check the site of Diakonia.
With God's help and your participation, we will continue to hold our modest but sincere bazaar to support and strengthen the children their parents.