Vladyka Panteleimon (Shatov)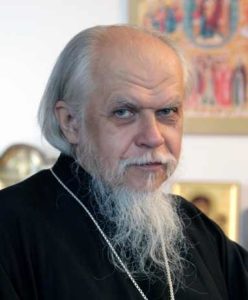 Bishop of Orekhovo-Zuevо, Vicar of the Patriarch of Moscow and All Russia, Head of the Synodal Department for Church Charity and Social Service of the Russian Orthodox Church, spiritual mentor of the St. Dimitry School of Sisters of Mercy, the leader and the spiritual mentor of the largest Orthodox humanitarian aid service "Miloserdie". He is ordained in 1978. In 2010, he was promoted to the rank of archimandrite. He is a widower, has 4 grown-up daughters, and 20 grandchildren.
Vladyka was at the origin of the revival of the sisterhood in the 1990s. Yet to a wide circle of people he is best known as the founder of "Miloserdie" aid service, which today already has 27 projects aimed at helping various categories of people in need: children and adults with disabilities, orphans, lonely and elderly people, pregnant women and women with children, homeless, large families, low-income people, patients of medical institutions. These include the "Angar Spasenia" -"Hangar of Salvation" for homeless folk, the crisis center "Dom dlya mamy" – "Home for mother", St. Sophia's Social House, St. Spiridon almshouse, "Elizaveisky Sad" and others. According to the RusFund rating of 2016, the Orthodox aid service "Miloserdie" belongs to the top 10 fund-raising charity foundations in Russia. According to a study by the Donors Forum, it is ranked 5th by frequency of mentioning in the media among Russian charity foundations.
In addition, Bishop Panteleimon devotes plenty of time to the volunteers and the care-receivers: he holds thematic meetings and talks, where he answers spiritual questions as well as the questions of vital importance, provides lectures and joint liturgies that unite "Miloserdie" volunteers, conduct on a regular basis the prayer services for creating a family for those looking for a spouse. He provides spiritual support, help, and advice. Particularly popular are his presentations "How to learn love," "On the choice of life partner," "On Liturgy," "On confession," and many others.
At the Volunteer's Day, Vladyka will talk about the importance of volunteering in Christian life. He will be available for questions, can give a useful advice required, and converse in a friendly atmosphere with all the participants.