Thanks from the mother of Bogdana K. – Respected brothers and sisters!
I am thankful for your help to Bogdana – this was yet another step towards our goal, her first step!
On September 12, 8:00 there was a 4-hour surgery, Bogdana could stand it well, and was quickly dismissed from the reanimation unit since she felt well.
It took her some time to recover from anasthesia, yet she began to joke and smile soon.
The doctors made everything planned and told that Bogdana is a very good girl !!!
I THANK EVERYONE OF YOU. LOW BOW TO YOU. GOD BLESS YOU!!!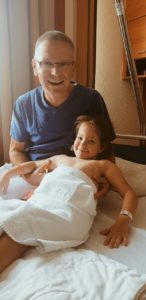 In the picture – Bogdana and her surgeon dr. Brenius.