April 2017
Christ has risen!
Happy Easter to us all, the most important of all celebrations – one of hope and joy! Let there be more light and kindness in our world. Thank you to everyone who is contributing to it!
In March you helped: Alexey Holkin, 10y., ICP, to pay for his treatment in the rehabilitation clinic; Mariana Cherevata from Ukrain, 19 y., myasthenia – to pay for her operation in Nürnberg; Liza Razdolskaja from Ukraine, 11 y., kidney malfunction – to purchase medicaments, enabling her to wait until a kidney and liver transplant.
In April, the following children need our help: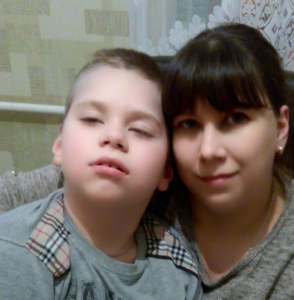 Alexei Holkin, 10 years, Moscow region, epilepsy, organic injury of the central nervous system, ICP.
The first convulsions appeared on the 1-month old Alexey after a hepatitis injection. As a result of repeated convulsions and strong pharmaceuticals he started to get behind in development. At his age of ten he is unable to sit or stand, can't do anything without assistance. But the mother is not giving up. Using a new methodology, the Novosiberian doctors were able to create and inject immune system cells into the spine bone marrow of the patient. Following this operation, a special rehabilitation programme is recommended. A place that offers such a programme is the Hungarian clinic Olinek. The collection of the money for the next rehabilitation in the clinic in Budapest in April/May has commenced. The sum: 2100 euros.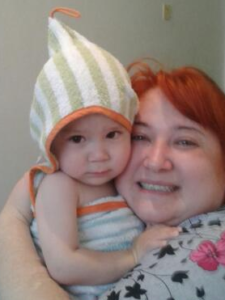 Spartak Bolshakov, 2 years, from Osh, Kyrgyzstan, innate heart disease, post-surgery high lung hypertension.
With the efforts of caring people it was possible to transport the child to Moscow. The operation was done at the very last moment, and after it – high lung hypertension. In order for the child to survive, avoid a lung transplant and get rid of the heart disease, he needs to take the pharmaceutic Tracleer for the next two years.
The family lives in Kyrgyzstan, only the father is employed. There is no way they can gather the necessary sum to keep their son alive. We would be happy to find a sponsor, who is ready to take care of the child.
The price of the pharmaceuticals for a three month period is 600 000 roubles (around 10 000 euro).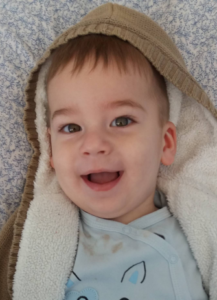 Denis Taran, 2 y., from Berdyansk, Ukraine, consequences of herpes meningoencephalitis, anti-NMDA receptor encephalitis.
Went through a physical and mental rehabilitation course at the clinic Helios in Hattingen, Germany. The child needs to have a control test done to him every 3 months in the clinic in Datteln, Germany, in order to warn him of a possible recidivism. He needs 8760 euros to continue his rehabilitation programme and to go through another control test.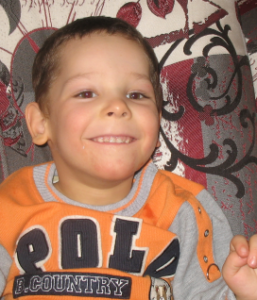 Yaroslav Andreev, 5 years, Kaluga region, injury of the brain at birth, ICP, spastic tetraparesis. Due to hypoxia during childbirth, Yaroslav has to fight against ICP and spasms from his very first day. Most of his life he spends in rehabilitation clinics. The family, which includes an ill father, lives of a disability pension and caretaker support. The child needs 7136 euros to go to the Hamburg centre 'Ototraining' for a brain stimulation and a TOMATIS therapy in midlle May.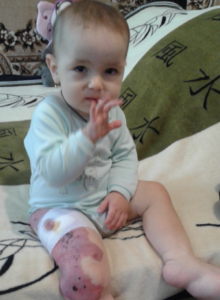 Sasha Sumez, 2 years, from Nikolaev, Ukraine, Klippel-Trenaunay-Weber syndrome, CLOVES syndrome, necrosis of the backside of the right sole, brain cyst, irondeficient anemia, trombophlebitis. She went through treatment in Ukraine and Germany. Sole has been removed. From the start of February 2017 her condition suddenly got much worse.The Ukrainian doctors are unable to help. Sasha constantly needs medicaments of iron, Clexane (for thinning out the blood), compression hosiery, without which she cannot stand up. She also needs special footwear and prosthesis to learn how to walk.
In the family only the dad works. His income is only enough to cover the costs of the analysis, the disabled person support – for 2 packs of diapers.
From the letter of Sasha's mum: "I desperately want to help our little daughter, which I waited for 16 years! But our possibilities are at and end and there is no one left to help us!" For the provision of necessary medicaments the family needs 300 euros monthly.
Let me also remind you about an important event which is happening in July! We host an annual Orthodox Volunteer Day on the first Saturday in July, which collects volunteers from all around Europe who help Russian-speaking children, in order to exchange information and experience, establish contacts and teach the newcomers.
EVERYONE is invited, who is motivated to help others! We are looking forward to also welcoming people of the arts and business this year, who want to take part in the benevolence doings, as our slogan for 2017 is: "Art and Business in Benevolence". You can learn more as well as register on our site, orthodiakonia.de
We would be very grateful for spreading the word.
See you on the 30th of June – 2nd of July in Berlin for the Day of the Volunteer!
HURRY TO DO GOOD!
Warm hugs,
Alina Titova
PRAYER LIST FOR APRIL 2017:
For the health of:
infants Vera, Daria, Sofia, Alexandra, Angelina, Elisaveta,
children Maxim, Iohan, Daniil, Ariadna, Daniil, Vladislav, Stephan, Eldar (privately), Lauma (privately),
Aglaida, Emilia, Valentina, Daniil, archpriest Sergiy
For the health of our volunteers and for God's help in their every good deed:
Irina, Ludmila, Vera, Xenia, Maria, Xenia, Alexandra, Anna, Vladislav, Anastasiya, Natalia, Helena, Irina, Maxim, Ekatherina, Ekatherina, Olga, Alexandr, Timothy, Elvira, Larisa, Anton, Irina, Tatiana, Sergiy, Fotiniya, Fotiniya, Irina, Olga, Vera, Alexandra, Ekatherina, Fotiniya, Alexandra, Iuliya, Natalia, Helena, Liya, Alla, Andrey, Anton, Sergiy, Alexandra, Maria, Fotiniya, Tatiana, Olga, Anastasia, Irina, Maria, Alexandra, Galina, Yuli, Marina, Margarita, Daniil, priest Alexiy, priest Ilya, priest Nikolai, priest Alexander, priest Victor, priest Evgeny.
Also remember to pray for their relatives!