DECEMBER 2021
Greetings, dear friends!
We have helped financially to Savva Balabanov, 12, hemophagocytic lymphohistiocytosis, Maxim Antonenko, 29, progressive squamous cell carcinoma, and Alina Kupriyanova, 9, congenital heart disease, cerebral palsy.
In addition to financial assistance, we are providing volunteer support to dozens of families every month.
Thank you, dear volunteers and sponsors, for your continued support!
Our "Christmas" care-receivers: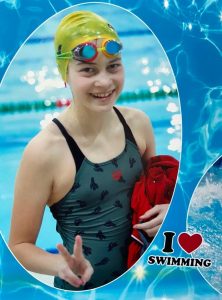 Victoria Sabelkis, 13 y. o., St. Petersburg, Russia, Ewing's sarcoma.
Victoria is a professional swimmer, a member of the Olympic reserve sports school "Raduga". Her main swimming technique is breaststroke, she has many significant sporting achievements, victories and records. She is also a musician: she plays three musical instruments – piano, dombra and metallophone. In spring of 2021, the girl's father has suddenly died. This was a heavy shock for her. Soon Victoria began to feel unwell and a fever rose. The tests showed a rare cancer disease – Ewing's sarcoma.
For several months the girl has been undergoing treatment in Cologne, Germany. She is undergoing chemotherapy at the moment. There is still a surgery and a rehabilitation period ahead. Victoria believes that she will recover and will come back to her favorite sport.
The family needs help with paying for housing and food. This amounts to about EUR 800 per month.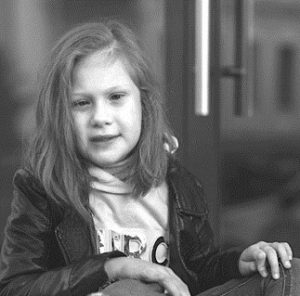 Sofia Rudenko (baptized as Sofia), 8 y. o., Grodno, Belarus, microcephaly, spastic tetraparesis, delay of psychomotoric and speech development.
The health problems have appeared in the first year of the girl's life. Later, several diagnoses were made, and the disability status was established. Owing to their perseverance and repeated therapies in various centers, the parents have managed to achieve a significant success in the development of their daughter. Sofia shows a progress after each rehabilitation.
Now the child requires a rehabilitation course at the Moscow speech therapy center "Dobroe Slovo". This course includes behavioral and cognitive therapy classes, 55 individual sessions, dolphin therapy, ABA / neurodefectology, logotherapy, neurotherapy, LHC therapy, neuroacoustic correction, tomatis therapy, as well as food catering, accommodation, and the homework program following the course. The cost of the course is EUR 3,500.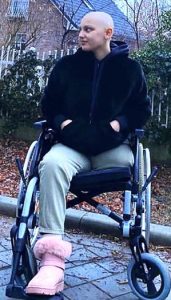 Ilona Dolukhanyan, 17 y. o., Krasnodar, Russia, osteosarcoma.
Ilona's leg began to hurt in April 2020. The doctors could not establish a diagnosis for a long time. Only when the girl got a hip fracture with no impact, they have discovered a bone cancer in the advanced stage.
To save their daughter, the family has sold everything and went to Germany for treatment. Unfortunately, the leg could not be saved: the time was lost. It had to be amputated. Then the German doctors began to conduct the chemotherapy courses. After several months of treatment, Ilona is in remission. Now she is learning to walk with a temporary prosthesis. In the future, she will need a bionic prosthesis.
During the treatment, the family and relatives have exhausted their financial resources. At the moment, the family has a debt to the clinic, EUR 13,125 euros, which must be paid as soon as possible. The bionic prosthesis would cost about EUR 35,000.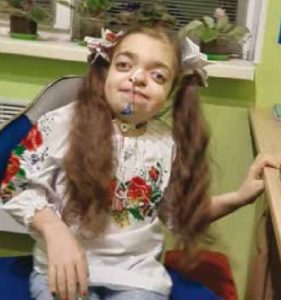 Alisa Isaeva, 10 y. o., Donetsk region, Ukraine, diagnosis: hydrocephalus, scoliosis, Cruson's syndrome, malformations and diseases of the joints, Arnold-Chiari anomaly.
Alice was born eight months old and could not breathe on her own. She was reanimated, underwent an operation to separate two of the three cranial sutures (craniostenosis). A tracheostomy tube has been installed, then a shunt for the outflow of cerebrospinal fluid. After all this, the parents have proceeded with a continuous rehabilitation of the girl. Owing to their efforts, Alisa began to hold her head at 6 months, sat down at 9 months, she walked at the age of 1.5. When 2 years old, the girl knew all the colors, letters, numbers, built pyramids, did puzzles. Then the war raged in Donetsk region, so the family was forced to leave. The change of the place of residence has negatively affected Alisa's condition. She began to get frequent pneumonia, has suffered 4 comas, and, as the result, stopped walking. A 10 months long rehabilitation was required for the girl to be able to walk again with the support. The scoliosis began to progress, the spine curvature angle has become critical. A spine surgery has been performed this summer at a clinic in Barcelona. Despite everything she had experienced, the girl attends the 4th grade of a regular school following an individual training. She likes math and English, and loves to do puzzles. For her efforts not be in vain, Alice needs further treatment, and a wheelchair selected for her individual size. The wheelchair costs EUR 2,922.
Alexey Drannoy, 39 y. o., Brest, Belarus, cerebral palsy
Since childhood, Alexey has been diagnosed with cerebral palsy. Yet he has learned to walk on his own, graduated from school, received an education and is now employed. However, Alexey does not walk well, he has severe pain in his knee joints. After consulting German doctors, he has got a hope to change this situation. Alexey requires the neuro-orthopedic treatment of the soft tissues of the lower extremities and capsulotomy of the knee joints. This will help to significantly alleviate his condition. The cost of the treatment is EUR 39,000. A part of the funds has been already collected, but yet EUR 11, 802 more is required.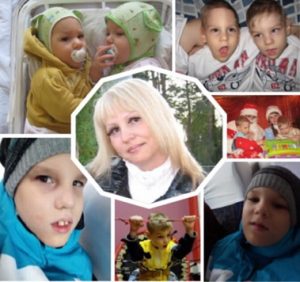 In this Christmas letter I also would like to tell you about a wonderful woman, a brave and kind person, Larisa Sanyukevich, the mother of twins Sasha and Pasha, who have been confined to a wheelchair by cerebral palsy since their birth. Once we have helped this family to perform hip joint surgery on boys in Germany. After another trip to Germany, Larisa returned to her native Grodno, Belarus, with a firm intention to help children like her sons to live life to the fullest, and their parents – not to feel alone and abandoned to their fate, but to be confident, knowledgeable, receiving support and care.
Larisa has brought together the families with disabled children, rented an apartment and founded the rehabilitation center "Ruka pomoschchi", this means Helping Hand.
They made the repairs, collected funds for equipment, began to educate and arrange the studies for their own specialists, so as not to travel abroad for the rehabilitation. And all this done without external funding, only due to motivation and the ability to communicate with people and bring what has been started to the end. Larisa is such a person! ) It was she who ensured that nurses were allocated in Belarus for families with disabled children. She wrote letters, and went to the Ministry of Labor and Social Protection in Minsk. In this way, she was able to improve the situation for many.
So if you think whom to help on these pre-Christmas days, or on a more permanent basis: one of the worthy options is here!

The letter of Larisa follows: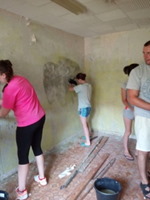 «We are a charity organization that aims to improve the quality of life of children and youth with disabilities and their family members, promote their adaptation, socialization and rehabilitation, provide them with the necessary assistance and support.
We work with the families raising children with musculoskeletal disorders, cerebral palsy, with autism, diagnosed with Down and Rein syndromes, etc.
We provide care to 106 families. During the year, there are many various actions for our care-receivers. This is help in the form of food, distribution of humanitarian aid, hygiene products, family photo sessions, trips of parents with children to entertainment centers, New Year's parties with sweet gifts, educational trainings, seminars, rehabilitation, etc.
The center premises comprise139 m2. Together with the parents of sick children, we have made the repairs and equipped it with what we could.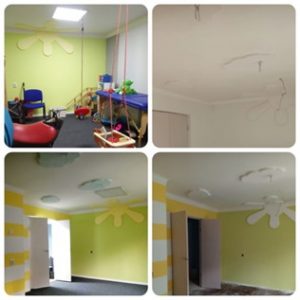 At the moment, we plan to open a free gym hall for the disabled. Since the parents of sick children are not able to buy expensive exercise equipment at home, we have decided to create a room where a parent with a special child can come to trainings and so keep their child in shape. Such children need specialized expensive training equipment.
To raise the funds for the gym, a charitable account has been started. The donators transfer small amounts to the bank account, the total amount gradually increases. However, the service costs, expenses on heating, and the salaries of two disabled employees absorb everything accumulated. It turns to be a vicious circle: we cannot buy the training equipment, and even service costs are difficult to pay
»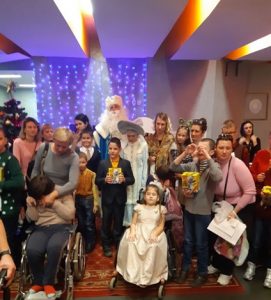 The "Ruka pomoschchi" organization requires about EUR 500 per month for running costs and about EUR 7,000 euros for equipping the gym for the care-receivers.
I wish a blessed Christmas and a happy New Year to you all!
HURRY TO DO GOOD!
I wish health to you all! Take care of yourself and your loved ones!
I embrace you heartily,
Yours Alina Titova