Charity Fair in Munich, 3-12-2017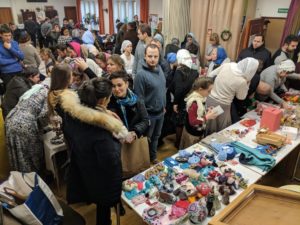 We held yet another traditional charity fair in Munich on December 3, 2017, on behalf of Diakonia "Good Deed". The organizers have asked the local needlewomen to give their works to the fair – and did not even think that so many of them would respond by sending the original, lovingly made embroideries, ornaments, and toys. There was a lot of tasty baked goods and even some unleavened bread. The parishioners and all the guests of the fair were flattered! Our special thanks go to volunteers who have been supporting the fair for several years: not only with their work, but also with help in organizing, trading and cleaning after the fair.
We have been collecting for two care-receivers of Diakonia: Zahara S. and Maria L. With our joint efforts, for 3 hours of the fair we have collected 1,026 € – this is a major success. Who would like to help with the organization of the fair in the spring? Please contact as, we will be glad to any helping hand.
Volunteers of Munich