JANUARY 2017
Dear friends!
The holidays are over, life goes on, yet good deeds do not cease.
In December, while making boards between all events, family and social duties, we – with your help – have managed:
to pay the rehabilitation of Levon Avagzhenian, 2 y.o., cerebral palsy, in the "Rodnik" health center in St. Petersburg; to buy and bring to Elets a half-year supply of medicine for Artem Metsheryakov, 5 y.o., erythroderma; to pay the trip to the place of treatment for Varya Shelyagina, 4 y.o., heart disorder.
We thank all donators and especially the volunteers of Munich local group!

The 2016 report of Diakonia activities you can find now in our site.
Several children wait for our help in January. Some of them are our permanent care-receivers while others just recently turn to us.
Let me name a few: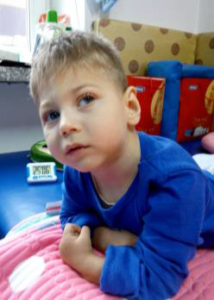 Rodion Nitokhin, 2 years 9 months old, city of Kerch, cerebral palsy and a bunch of associated disorders: spastic tetraparesis, symptomatic epilepsy, damage of visual pathways, myopic astigmatism. During 3 incomplete years of his life Rodion has already gone through a lot: he has had 2 resuscitation, 2 bypass surgeries and almost non-stop rehabilitation. He already has the little victories and has achieved certain results. At this stage, in order to stop the partial atrophy of the optic nerve and to start the recovery mechanism of his vision, Rodion needs a German-made medication Regenerezen. Otherwise, the child becomes blind for the rest of life. The sum required for the purchase of the medicine: 819 euros.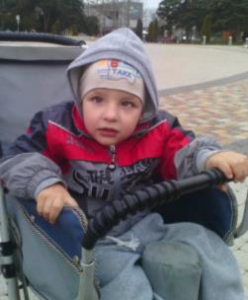 Vanya Kochnov, 4 y.o., cerebral palsy, from Donetsk. On Ferbruary 15, Vanya will undergo a serious surgery on knee and hip joints in a St. Petersburg clinic. The bill for the surgery is paid off. However, the family still requires approx. RUB 36,000 for the flight, subsistence, transportantion, living costs. The big family from war-ravaged Donetsk cannot afford this. They need yet EUR 550 for a long-awaited surgery to take place.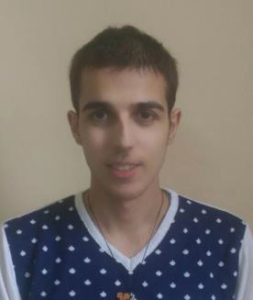 Alexander Kusturov, 23, Odessa region, leukemia.
This cheerful and creative young man grew up in a family of teachers. He works as a programmer. He has married at 22, and the life seemed just to begin. However, the misfortune has come. In exactly a year after the wedding, Sasha has learned about his diagnosis. The Ukrainian medics are incapable to help the guy, the chances to heal are only abroad. A Munich clinic is ready to accept Sasha. His relatives, friends and Sasha himself all believe in a happy outcome. In fact, Sasha's parents have already lost their eldest daughter who died after a heart surgery. So they do everything possible to save his son. The price tag of Sasha's life is EUR 91,000. One third of this sum is already raised. To do this, Sasha's friends have organized a charity bazaar in his home town, and got attention of local TV to the case. EUR 60,000 is still required.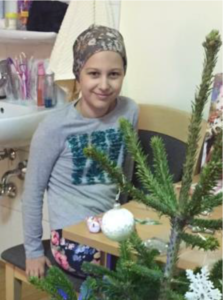 Lauma Maliko, 10 y.o., Latvia, bone sarcoma. The girl is being treated at the Munich university clinic for several months. As of today, her left leg is amputated to mid-thigh. There has been a lung surgery to remove the metastases. Two more surgeries are planned: a lung surgery and a complete amputation of the leg to the hip, since the tumor has relapsed there. And, of course, she undergoes chemotherapy, the endless chemotherapy. Lauma is a stouthearted girl, she does not cry, she even comforts her mother, who is with her in the hospital all the time. Lauma is a fighter, she will not give up. She just needs a little support – and she will give us her wonderful smile again. The bill for the operation amounts to EUR 10, 500.
Some general organisation news. It is already known where the Volunteer Day 2017 will be held. This will be in Berlin, on the first Saturday of July. In line with the tradition, the participants come on Friday June 30, the official opening is on the same day. The common Liturgy and charity bazaar will take place on Sunday, July 2nd. This time, there will be a big charity concert on Friday, where the professional musicians will take part.If you wish to come for the Day, please reserve these dates in your agenda. In March, we will publish the program, the details and registration in our site.
HURRY TO DO GOOD!
Heartfelt hugs,
yours Alina Titova
PRAYER LIST FOR JANUARY:
For the health of:
infants: Daniil, Sophia, Angelina, Alexandra, Arseny, Iohann, Iohann, Konstantin, Elena, Valentina, Elisaveta,
children: Igor, Ariadna, Daniil,
Archpriest Sergy, Aglaida, Alexandr, Evgenia
non-baptized: Marek, Eldar, Lauma, Elvina
For the health of our volunteers and for the God's help to them in every good deed:
Xenia, Elena, Olga, Maria, Ioanna, Anastasia, Xenia, Elena, Irina, Ekaterina, Ekaterina, Irina, Tatiana, Maria, Eugenia, Irina, Alla, Ludmila, Fotinia, Vladislav, Irina, Evgeny, Ekaterina, Vladislav, Vera, Olga, Alexandra, Maria, Fotinia, Tatiana, Olga, Anastasia, Irina, Maria, Alla, Irina, Yulia, Elena, Galina, Marina, Yuli, Anton, Nikolai, Daniil, Margarita, Angelina, Aleksiy, Oleg, Viktoria, Olga, Sergiy, Elena, Fotitnia, Alexandra, Eugenia, Ioanna, Yulia, Maria, priest Aleksiy, priest Ilya, priest Nikolai, priest Aleksander, priest Victor, priest Evgeny.
Also remember to pray for their relatives!