JULY 2023
Thanks to you all, dear friends, for your support!
In June, we have helped to pay for the treatment of Muhammad Kurbanov, 14 y.o, Dagestan, Russia, diagnosis: celebral palsy, scoliosis.
I wish peace, health and summer inspiration to us all!
In July, our help is awaited by: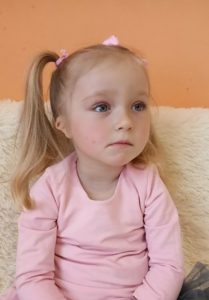 ALISA BILYAK, 3 y. o., Feodosia, Russia.
Diagnosis: congenital pathology of the right ear: atresia, microtia, conductive hearing loss of the 3rd degree.
Alisa was born with a deformed ear, the ear canal was missing. After numerous examinations, it turned out that the girl does not hear at all with her right ear. Her mother sent the computed tomography and examination results to an American clinic for a consultation. The answer was: little Alisa has a good chance of restoring her hearing and there is an opportunity to do a plastic surgery of the auricle. Now Alisa is actively developing, but the lack of hearing on the right causes great difficulties in space orientation, communication and development. The cost of the operation is huge for a family where a single mother is raising three children: $105,200. The amount to be collected is EUR 95,000.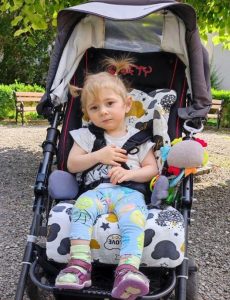 EVA CHAPLYA, 4 y. o., Lida, Belarus.
Diagnosis: cerebral palsy, spastic tetraparesis.
At 37th week of pregnancy, the baby's heart rate was worsened and her mother had an urgent caesarean section. When the baby saw the light, she did not breathe and spent the first weeks of her life in intensive care. Nevertheless, she stubbornly fought for life. At the age of one year, Eva was diagnosed with cerebral palsy. The girl has successfully undergo an Ulzibat surgery, yet she needs a second operation a year after the first one. She also need orthoses to prevent feet deformation when walking, and regular rehabilitation. Eva has visited various rehabilitation centers, and Olinek center in Poland turned out to be the most effective. The family raises the funds for a two-year rehabilitation course, the surgery and the orthoses. If this is done, Eva will be able to walk on her own. EUR 32,511 is required.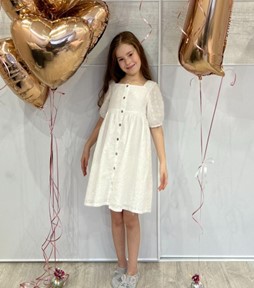 VASILISA TOKAREVA, 7 y. o., Sterlitamak, Russia. Diagnosis: congenital heart disease.

Since the birth, Vasilisa has undergone 3 surgeries and several probings. More than 6 years have passed since the last operation, although for such diagnoses a probing should be planned every 5 years.
The family requires a financial support for Vasilisa to get the treatment she needs. Vasilisa's father has suddenly passed away, and her mother cannot find the funds for her daughter's treatment.
They need EUR 16,100.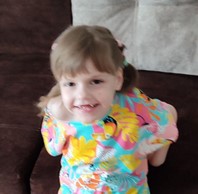 VASILISA DEGTYAREVA, 6 y. o., Volgograd, Russia. Diagnosis: epilepsy, cerebral palsy.
We have helped this family previously, but help with such diagnoses is needed on regular basis.
Almost from her birth, Vasilisa suffers from terrible convulsions. For a long time, the doctors could not find the cause of the girl's ailments and thus prescribe an effective treatment. The parents are doing everything possible for their daughter. Only in Germany the doctors managed to find a therapy after which the daily attacks began to happen less frequently. This has had a positive effect on the physical and mental development of the child. Now a second course of epilepsy treatment is needed. It should take place in Schoen Clinic Vogtareuth, Germany, that specializes in diseases with similar symptoms. The amount to be collected comes to EUR 35,032.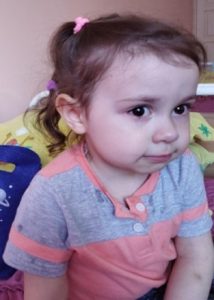 ELIZAVETA TEREBOVETS, 3 y. o., Mozyr, Belarus. Diagnosis: SMA (spinal muscular atrophy) type 2.
A year ago, little Elizaveta was diagnosed with SMA. This is a disease when the muscles gradually break down, get atrophied. A child begins to lose the motor skills already acquired, and slowly, one after another, the body functions begin to fail. There is a way to stop this disease: an injection of the drug Zolgensma. It delivers to a body a working copy of the broken gene. This injection has to be done once in a lifetime, but it is necessary to do this until the child reaches the weight of 21 kg. The cost of this injection is huge: EUR 1,650,500.
We would also like to remind you that on October 15-20, within the framework of the DobroMore project, a training conference for psychologists and volunteers entitled "Working with trauma. How to help others and yourself quickly and efficiently" will be held in Montenegro.
If you are working with people in crisis or are currently experiencing a crisis yourself, we highly recommend attending this meeting. For five days you would not only relax in a hotel on the shores of the beautiful Mediterranean Sea, but also get tools to help yourself and others, as well as improve your skills. More details about the participation conditions and registration can be found at our websites orthodiakonia.de and dobromore.eu.
HURRY TO DO GOOD!
I wish health to you all! Take care of yourself and your loved ones!
I embrace you heartily,
Yours Alina Titova