MARCH 2020
Dear friends, I congratulate you all on coming of spring – time of growth and inspiration!
In February, we have helped to pay:
a surgery at the Berlin cardiologic center for Anna Nikolaeva, 5 years old, St. Petersburg, diagnosis: atresia of the pulmonary artery type 3-4, tetralogy of Fallot;
a spinal surgery in a German clinic for Sergey Derkach, 28 years old, Ternopil region, Ukraine, retroperitoneal hemangiopericytoma with spread to the spinal canal;
purchase of a stroller and a rehabilitation course at the German TeraReha center for Lisa Ekimova, 8 years old, Tomsk, cerebral palsy, stroller, rehabilitation;
a block of chemotherapy for Ivan Boyko, 47 years old, Moscow, diagnosis: acinar prostate adenocarcinoma;
a debt to Heidelberg University Hospital for examination of Sasha Provotorov, 6 years old, Gatchina, Leningrad Region, brain tumor;
a monthly subsistence of the family of Artyom Agarkov, 7 years old, Volgodonsk, organic damage to the central nervous system, hydrocephalus.
Thank you for being with us!
In March, the following care-receivers are waiting for our help: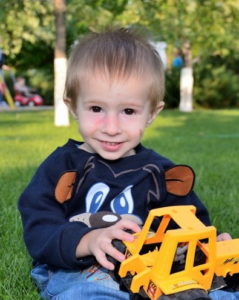 Makar Agarkov, 2 years old, Ukraine (Lugansk region). Diagnosis is not established.
Makar is now over 2 years old, yet he weighs only 7,300 grams. The boy suffers from abdominal pain, poor sleep, lack of appetite and indigestibility of food. Parents let him to undergo numerous examinations in Ukraine, but still nobody knows what is happening with the child and how to help him.
A Berlin clinic Charite is ready to help the boy. But the parents of Makar do not have the opportunity to pay the necessary amount: the farther works as a train driver on the railway, the mother is a nurse.
The costs of diagnostics and treatment amount to EUR 15,400.
Zakhar Kalinin, 13 years old, Russia, Pavlovsky Posad. Diagnosis: cerebral palsy.
Zakhar was born prematurely, 3 months ahead of the schedule, with the weight of 930 grams only, but with a great desire to live. In the age of one year, Zakhar was diagnosed with cerebral palsy, and has followed the numerous rehabilitation courses. In 2013, Zakhar underwent a complex spinal surgery to reduce spasticity in his legs.
We helped Zakhar several years ago with the purchase of a stroller. Now Zakhar needs a walking trainer. His mother Marina has recently undergone a complex pancreatic surgery herself, as well as a repair of hernia, that she got from excessive loads when caring for her son. At the moment, Zakhar cannot move without the help of his mother. In order for him to be able to do this on his own, a walking trainer is needed. The cost of the Grillo walking trainer from Ormesa that helps disabled people with severe motor disorders, including cerebral palsy, is EUR 6,000.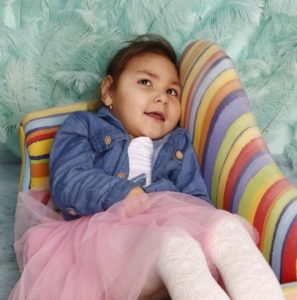 Safia Gareeva, 5 years old, Russia, Republic of Bashkortostan.
Diagnosis: cerebral palsy, spastic tetraparesis, symptomatic epilepsy, partial optic arthrophy.
Safia was born prematurely, and with complications. Only during the first month of her life, the baby had to go through a lot of troubles: intensive care, coma, mechanical ventilation, ischemia, pneumonia … At the age of 4 months, Safia began to have cramps and was diagnosed with epilepsy.
At the age of 5, the girl cannot walk, cannot speak, cannot eat on her own. Despite this, Safia is a kind, cheerful, diligent girl, a joy of her mother. Persistent exercises at home, massages, physiotherapy and rehabilitation courses gave the results: the girl holds her head, can longer lean on her hands while lying on her stomach, understands the addressed speech, loves music, children's poems and nursery rhymes. To learn how to walk, Safia needs to undergo neurorehabilitation courses and let to find a proper anticonvulsant drug in the Spanish clinic "Nisa Virgen del Consuelo". This costs EUR 7780. Her incredibly courageous and optimistic mother, Elsa, brings up the girl alone, since the farther left the family. With the aid of a support group, a part of this amount has already been raised. It remains to collect about EUR 5,000.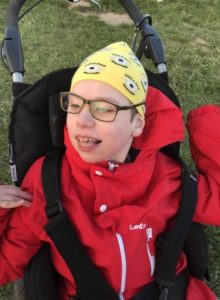 Alexey Holkin, 14 years old, Russia, the city of Golitsyno.
Diagnosis: cerebral palsy, epilepsy.
Some of you know the story of Alexey and remember how we have helped him in 2018. At the age of one month, after a failed vaccination against hepatitis, the boy began to cramp. He was diagnosed with symptomatic epilepsy and cerebral palsy. Parents do everything possible to rehabilitate and revalidate Alexey: he underwent various therapies, rehabilitation and massage courses, regular exercises at home. The rehabilitation in specialized centers helps him well, but it is very expensive. In the tight-knit family of Holkiny, there are 2 more children, and only the farther is employed.
At the moment, the child needs a rehabilitation course at the Olinek Center in Budapest. It costs EUR 2,500.
Mother Lukia (Prudnikova), 68 years old, Germany, Gailnau.
Diagnosis: terminal lung cancer with brain metastases to the.
Schema-nun Lucia was tonsured into a small schema in the 90s in Russia. Since October 2019, mother Lucia lives in the monastery of St. Spiridon of the Serbian Orthodox Church, Gailnau, Germany (the rector is Schema-archimandrite Vasily Grolimund). The diagnosis was established about 2 months ago, a course of radiotherapy was performed. About a month ago, mother Lukia has suffered a pulmonary embolism and spent almost 4 weeks in a hospital. Due to the weak state of the patient, the further chemotherapy does not make sense. Currently, the patient is in the village of Gaylnau (in the hermitage) and requires round-the-clock care and supervision. Mother Lukia does not have the German Pflegeversicherung, an insurance that covers the medical care at home. The professional care required and all other necessary expenses are covered by the monastery, which itself is supported exclusively by the labor of the fraternity and voluntary donations.
The costs of care for Mother Lukia run EUR 2 100 per month.
Lidia Razzhavina, 30 years old, Russia, Kazan. Diagnosis: heart and lung malfunction. In 2015, in Berlin, Lydia underwent a surgery to restore a pulmonary valve. Later in 2018 she got sick: sepsis and endocarditis. Тhe infection destroyed the valve. A collection is currently underway to cover the costs of the second valve repair operation. The total bill is EUR 34,655. It remains to collect about EUR 17,000.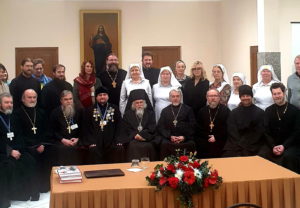 On February 26-28 in Vilnius the second conference on the social service of the Russian Orthodox Church in Europe has been held. The priests and the representatives of volunteer organizations from Spain, Italy, the Netherlands, Austria, Hungary and other countries come together in Lithuania. Germany was represented by our organization "Good Deed". The participants shared the experience of organization of the help to others – sick, eldery, refugees, homeless, people in complicated circumstances. The conference was presided by bishop Panteleimon (Shatov). In conclusion, it has been decided to combine the information about social work in separate dioseces dioceses into a common database on the platform of Diakonia and support each other projects. We can do more together!
HURRY TO DO GOOD!
I heartily embrace everyone
Yours Alina Titova