MAY 2021
Christ is Risen!
We congratulate everyone with the bright feast of Easter! May the victory of Christ over the Death give us all the hope and strength to do good.
Dear friends, thank you for your help.
In April, we have helped to:
Nikita Tereshchenkov, 17 y. o., Leningrad region, Russia, acute myeloid leukemia;
Matvey Belyakov, 10 y. o., St. Petersburg, Russia, congenital absence of fibula;
Masha Ruzavina, 11 y. o, Irkutsk region, Russia, congenital epidermolysis bullosa;
Liza Savelyeva, 12 y. o., Ukraine, epilepsy;
Eldar Eldarov, 16 y. o., Chechen Republic, Russia, cerebral palsy;
Semyon Ivanov, 23 y. o., Estonia, cerebral palsy, level 4 diplegia.
In May, the following children and young adults need our help: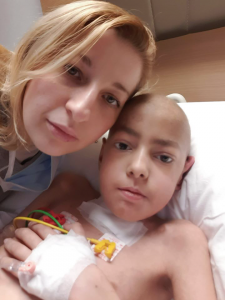 Saba Balabanov (baptised as Savva), 11 y. o., Nizhny
Novgorod, Russia, hemaphagocytic lymphaistiocytosis caused by Epstein-Barr infection.
Saba, a pupil of the Nizhny Novgorod orthodox gymnasium, had an eventful life: studiyng, playing, working as a co-host on a program of the orthodox radio
"Obraz", participating in the "Immortal Regiment" patriotic action, and numerous creative contests. But in 2019, when visiting his grandparents in Georgia, the boy suddenly felt bad. The examinations have revealed a severe form of the Epstein-Barr infection. The terrible complication of the infection was an autoimmune disease.
Since November 2019, he has been treated in a clinic in Istanbul: he has spent 11 months in intensive care, undergone 2 brain bypass surgeries, 14 courses of
plasmapheresis to restore the liver function, 2 courses of dialysis to restore the kidneys, the lung drainage, the courses of chemotherapy, and 2 intubations (inserting a tube into the trachea for forcible lung ventilation). During these long months in the hospital, Saba proved he is a true Christian by courageously and patiently enduring all medical procedures and pain. When they need put him into the drug coma, he asked forgiveness to everyone and told his parents in case he perishes to give his organs to other children …
At the moment, Saba is undergoing an ambulatory treatment at the Yeditepe Koshuyolu University Hospital in Turkey. He requires long time for recovery and rehabilitation. The relatives of Saba have sold everything they could. They still need € 27,000 to pay off the medical bills.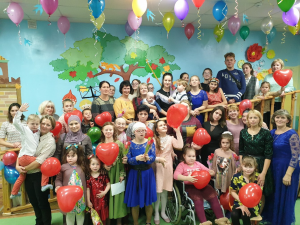 Center for Assisting Children with Disabilities in the Name of St. Luka Voino-Yasenetsky, Alatyr, Russia.
"Luka"-center operates in a small town of Alatyr, Republic of Chuvashia, at the parish of the Beheading of John the
Baptist. The center helps to 35 families with special children. The children can be attended by a speech therapist, a psychologist, a defectologist, a masseur, a physical therapy instructor. The center has a daytime group where you can leave your child for a few hours. The children can attend a theater, a choir club, choreography classes, Montessori consultance, and an outdoor children's play complex. All this is provided free of charge, although the center is funded by private donations only.
To make rehabilitation most effective, the children need special exercise equipment (Galileo exercise machine, Korvit support-plantar load simulator, hippo-trainer, ST-150 stabiloplatform) which is very expensive. The low incomes of the families with special children do not allow them to organize the professional rehabilitation on their own, and even more so, to purchase the training equipment required.
It is possible to purchase this training equipment in Germany. "Luka"-center needs your help with this. All equipment required for the Center costs about € 8,000.
Maxim Antonenko (baptised as Maxim), 29 y. o., Ukraine, progressive left-sided squamous cell carcinoma.
We have already helped Maxim last year, but the young man needs our support again. Maxim was interested in programming, he was the only man in the family and provided a reliable support for his loved ones. But Maxim fell ill in 2019. It started with stomatitis, and then terrible ulcers appeared in the mouth. The Ukrainian doctors could not make a diagnosis for half a year and recommended a treatment in Germany. after the examination at the University Hospital of Frankfurt am Main, a diagnosis was established and the urgent treatment was prescribed. This was successfully completed. In April, a follow-up examination revealed the metastases in the lungs. Maxim is prescribed chemotherapy, that he has already begun to undergo. Yet the family
has no funds to pay the bill. About € 3,900 is required.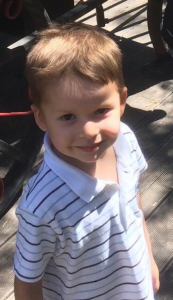 Mate Gujabidze (baptised as Matvey), 5 y. o., Georgia, ependymoma (brain tumor).
Matvey fell ill a year and a half ago. The examination revealed a tumor in the brain. The child was prescribed 4 courses of chemotherapy and radiation therapy, and had an operation. However, the tumor relapsed in several months. The doctors in Georgia were not able to offer any treatment. The further treatment of the boy continued in Turkey. There, he underwent 2 operations, a chemotherapy and a cyberknife radiation therapy. Unfortunately, the tumor has relapsed again.
Matvey is in a clinic in Munich, where a shunt was installed to pump out fluid and a tracheostomy was placed to prevent the fluid from coming into the lungs.
The parents require help to pay the treatment. The bill amounts to € 21,800.
HURRY TO DO GOOD!
I wish health to you all! Take care of yourself and your loved ones!
I embrace you heartily,
Yours Alina Titova