MAY-JUNE 2020
Дорогие друзья,
Dear friends,
In the last weeks, a lot of beautiful and joyful events have been happening. And it is important for us to notice this. The manifestations of mercy, wisdom and unity come all around us and, in the most decisive moments, remind us what means to be a human in these unprecedented times.
Over the whole planet, people are helping their neighbors, buy and prepare food for those in need. The volunteers and organizations feed free of charge the doctors fighting the pandemic at the forefront, bring groceries and free lunches to families who need help.
In some countries, the military hostilities are stopped to insure the food delivery to the poor. In some countries, the migrants and refugees are granted a residence permit, including access to free medical care and social benefits …
The volunteers of Diaconia, like all people, act as the changed conditions imply and accept the challenges of the time. Below are excerpts from the reports of the coordinators over the past months:

We have helped B. family with the purchase and delivery of food while they were in the apartment. A week ago, Sasha was put to the hospital for another course of therapy. We keep in touch, inquire about their needs, offer help. Nothing special is required yet. We have brought money for insurance to three families and sponsor assistance to four families that live in the elderly house. We maintain constant telephone communication with each family. Unfortunately, we are not yet allowed to enter the hostel. The children and mothers rushed into the hostel yard when our volunteers have arrived. It was so clear that everyone was bored without communication. We have kept the necessary distance. Moving families to the temporary apartments is being postponed due to the upcoming major overhaul of the building.
The prayer group of our parish during the entire Lenten read Psalterium at home, for the health of the sick, including all our care-receivers, and for the rest of the children passed away. We have decided to continue this joint prayer also after fasting, we have resumed it at the end of the Bright Week.
Many thanks to the coordinator and volunteers of the Essen group for their prompt reaction and the swift organization of assistance with translation for our Dima! How important it is to know that we all, being in various cities of Germany, hold our hands tightly. This support is invaluable.
In April , Sasha P. and Yaroslav B. have been helped in Munich. Sasha and the mother got back to Dortmund, while Yaroslav and his mother returned home to Sochi. Owing to the sponsors, two families have been paid for their accommodation in Ronald's House. We help the A. family as before. At Easter, we managed to convey small presents to the care-receivers.
In April, we have send a parcel to our care-receivers in Russia, and helped with a translation to a care-receiver of Cologne group.
In April, we have helped with the translations to those who have already had the treatment or could arrive on time for one, we have translated 24 pages. Many thanks to our translators, it is so important, whatever the situation, to respond and find time to help a neighbor!

In total, in March and April, Diaconia has supported 8 families of suffering children in Germany and 2 families in Russia. We have also paid for the stay during treatment for Sasha Provotvorov,7 y.o., cancer, Gatchina, Russia and the debt for the treatment of Daniil Spiridonov, 17 y.o., cerebral palsy, Lipetsk, Russia.
We thank everyone who has found time and money to help others in such a difficult time!
In June, our help is awaited by: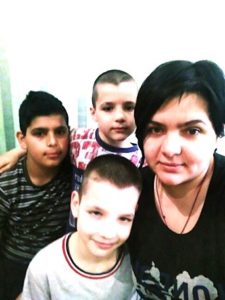 Kochnov family from Rostov region, Russia: Luka, 6 years old, bronchopulmonary diplegia; Vanya, 8 years old, cerebral palsy, hearing impairment, optic nerve atrophy; Damir, 13 years old, asthma.
We have been helping this family for several years. However, now the mother and her three children are going through most difficult times. The father has left the family. The mother makes money by cleaning the common staircases in appartment blocks. She is not accepted for better jobs because of the little and sick children.

From the letter of the mother:

Damir loves to draw and do computer science. Unfortunately, we do not have a good wired internet connection, I can't afford this, as it comes close to my monthly income. And our old computer cannot connect to mobile internet.
Vanya and Luka dream of traveling to the parks. Previously, when I had a car (1982 Lada ), we drove with them to there: the nearest city is 55 km apart. But the car has outlived its age…
The boys dream of good toys and a bunk bed.
The situation is critical now. I can't buy them the clothes since they grow quickly. All three are stripped: so terrible to write this. It is more or less fine with Vanya, at least he has a summer outfit and sandals. Luke and Damir wear what has been bought 3 years ago.
The mere nutrition is a problem. The children ask for milk or sweets, but I can't afford this.

Since last summer, the mother also has health problems. She often faints. She says she only holds on prayers.
The mother and her three children need about 200 euros per month for subsistence. This includes utility bills and food. For a wired internet connection and a bunk bed, EUR 300 is required for once.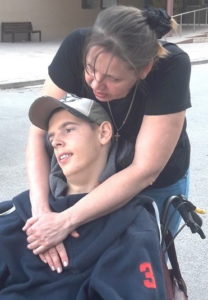 Ilya Sorokin, 19 years old, Vladimir region, consequences of a traumatic brain injury.
In 2015, Ilya was brutally beaten by five teenagers. As a result of his injuries and the absence of timely medical assistance, he fell into a coma. His last words were: "Mom, I am dying" … At the moment, Ilya does not talk, does not walk, cannot eat on his own. Due to the time lost, the consequences of the injury were more serious than they could have been. For 5 years now, parents have been fighting for the restoration of the basic skills of their son.
Ilya is in Spain now, for outpatient treatment at the Gutman Institute. The rehabilitation course at the institute is paid by a Russian charity fund. However, the funds are needed to pay for the apartment and purchase medicines, as well as for medical examinations by specialists.
This costs EUR 1200 per month.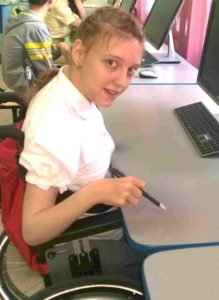 Nastya Zhuldybina, 21 years old, Novokuznetsk, Russia, central nervous system lesions, spastic tetraparesis.
Nastya was born prematurely and has a whole bunch of various diagnoses. This does not prevent her from studying at a commerce college for the 3rd year, but makes a regular rehabilitation necessary. Since Nastya is already an adult, all charity funds refuse her. She and her mother have nobody to help. Yet without rehabilitation, the spasticity builds up, and her body does obey.
Nastya needs to undergo a rehabilitation course at the "Academician" Center for Rehabilitation in Moscow at least once a year.
This costs EUR 2660.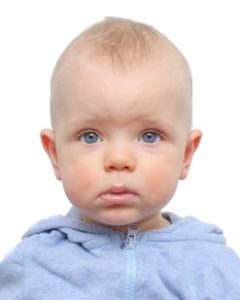 Kostya Shashuro, Minsk, Belarus, nephroblastoma stage III.
In July 2019, a child was diagnosed with a tumor of the left kidney. The doctors at the oncological hospital could not help with this. Kostya had to go to a German clinic. Helios Klinikum Berlin-Buch has responded and agreed to accept Kostya for the treatment. The family managed to collect the initial funds on their own. Yet it turned out that back in June 2019 Kostya has underwent a bad quality surgery. Because of this, the disease must be treated differently. The invoice for the continuation of treatment amounts to EUR 90,000.
Sasha Smityukh from Kiev, Ukraine, 10 years old, pituitary dwarfism.
This is a rare disease whereby the pituitary gland does not produce the corresponding growth hormone. This leads to a delay in physical development and insufficient size of internal organs, which affects the functioning of the whole organism and the quality of life.
The artificial hormone replacement therapy is required. Sasha still has time to change his growth pattern and become a full-fledged man. Yet the time expires day by day.
In order not to remain in the child body till the end of life, Sasha needs EUR 6,850 euros for the proper medication.
Our news:
On March 10-20, the second period of the Dobro More rehabilitation program has been held in Montenegro. You can watch the video about the event at out site or following the link: https://youtu.be/IrpQsMnLutE
I know it seems improbable now, yet I am sure that Dobro More project is needed and will develop swiftly! According to responses of the colleagues and participants, the project is unique. However, we need our own spot very much! The price of this issue is about EUR 500,000. I would greatly appreciate organizational, financial and informational assistance. Please write to me to dobromore2019@gmail.com, call at +49 178 5408805!
Please follow Dobro More news at the site dobromore.eu and subscribe to our pages at social networks:
Facebook: https://www.facebook.com/Dobro_More-103280131055797/
Instagram: https://www.instagram.com/dobro_more/
We are looking for sponsors to buy a house for Dobro More rehabilitation center in Montenegro, as well as volunteers for the program organization team; (IT) professionals for the technical support departments for Diaconia and Dobro More; co-workers for the PR department of DobroMore (newsletters, social networks, etc.) For details: alina.titova@orthodiakonia.de
Volunteer Day 2020 – Online
Our 6th Volunteer Day that was scheduled to be held in Hamburg on July 4, goes online. Everybody who wants to participate in a super-motivating and unique event of the international scale, to wants help us and our care-receivers – you are welcome to join! The program is known, the registration is open at our website.
Please subscribe to our pages in social networks:
https://www.facebook.com/orthodiakonia/
https://vk.com/orthodiakonia
https://www.instagram.com/orthodiakonia/
HURRY TO DO GOOD!
I wish health to you all! Take care of yourself and your loved ones!
I embrace you heartily,
Yours Alina Titova