SEPTEMBER-OCTOBER 2023
Dear friends, the past two months have been eventful. Thanks to everyone who have helped financially. With your help, we have closed the collections for:
Eva Chaplya, 4 years old, Belarus, cerebral palsy,
Fadey Smirnov, 7 years old, Belarus, cataract of the corneas of both eyes;
the family of Alexandra Sumets, 8 years old, Ukraine, Kharkov region, Cloves syndrome;
The Center for children with special needs in Grodno.
Thanks to everyone who have helped to organize our psychological conference for care-receivers and helping specialists, that starts in Montenegro in two weeks! We will be glad to meet those who come, and to get the support of those for whom it is important that there is a little more order, understanding, warmth and joy in our suffering world. Thank you for being with us!
In the next month, our help is awaited by: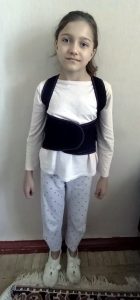 VERONIKA KOVALSKAYA , 9 y. o., Mykolaiv, Ukraine.
Diagnosis: congenital scoliosis, funnel chest, flat feet.
The girl has a severe scoliosis, but, unfortunately, no treatment is provided except for supportive measures in the form of massage, swimming and wearing a corset. In addition, it is very important to sleep on an orthopedic mattress. The situation in the family is difficult: the girl's father is also sick, he cannot work and requires a constant treatment. The only breadwinner in the family is Veronica's mother. So the funds lack, and there is no government support. To purchase the mattress, they need EUR 200.
EMILIA ORDYNSKAYA, 5 y. o., Minsk, Belarus.
Diagnosis: Ewing's sarcoma
In the spring, Emilia's leg began to hurt. The x-ray showed that a part of the bone is already not there. The girl was diagnosed with Ewing's sarcoma. In Belarus, there is no experience in operating young children on this particular part of the leg: next to the heel, that has to support.
After starting chemotherapy, Emilia had to be resuscitated: the medicine in use did not work for her. The family is forced to buy the medicine in Europe, which is very expensive and difficult. The parents sent the documents to a clinic in Essen, Germany. There, they are ready to accept the girl for the treatment, but the costs are too much for the family – EUR 145,000.
Ewing's sarcoma is one of the aggressive forms of cancer; the treatment should start as soon as possible. We ask for your help!
HURRY TO DO GOOD!
I wish health to you all! Take care of yourself and your loved ones!
I embrace you heartily,
Yours Alina Titova